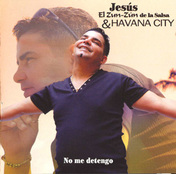 No Me Detengo
| Style | Released | Album Tracks | Charts |
| --- | --- | --- | --- |
| Timba | 2006 | 11 | 0 |
$10.99

© 2006 Envidia Producciones. All rights reserved.
Audio album download includes album tracks, liner notes and cover art.
All audio tracks in MP3-VBR format. About LPM album downloads.

| # | Name | Play | Time | Info |
| --- | --- | --- | --- | --- |
| 01 | Se Acabo La Magia | Your browser does not support the audio element | 5:04 | a mi no me engañas, el bombo lo tengo yo |
| 02 | Que Dificil | Your browser does not support the audio element | 4:21 | .....que tu seas mia por siempre |
| 03 | No Te Detengas | Your browser does not support the audio element | 4:16 | camina pa'lante y no mires atras |
| 04 | Juan | Your browser does not support the audio element | 4:45 | la historia de un muchacho peculiar, o es muchacha? |
| 05 | Ahora Quien Soy | Your browser does not support the audio element | 4:15 | un amante arrenpentido, un poeta un pobre diablo |
| 06 | El Sabroso | Your browser does not support the audio element | 4:37 | cuando toma ron mezcla la timba con reggeaton |
| 07 | Ella Me Embrujo | Your browser does not support the audio element | 5:20 | la pasamos bien yo diría, super ok |
| 08 | A 50 Grados | Your browser does not support the audio element | 5:11 | .......y como canta el Zun Zún |
| 09 | Melao De Caña | Your browser does not support the audio element | 4:49 | ritmo, sabor y dulzura, esto es salsa |
| 10 | El Esplendido | Your browser does not support the audio element | 4:12 | el tanque espera por ti, ten conciencia papá |
| 11 | Amor Adolescente | Your browser does not support the audio element | 5:04 | escuela no es para besarse, cuidao con el director |

Jesusito (ex-Dan Den) El Zun-Zún's third release shows a return to a more driving timba sound. Jesusito is one of the more romantic and sensual voices in Cuban music today.
Español: El Zun Zún se hace conocer en La Habana en el programa de la televisión 'Mi Salsa', episodio 'Buscando el Sonero', donde alcanza el segundo lugar con la canción 'A Ti Mi Nena', tema de Randy Vázquez. Lo recuerdo en esa etapa que llamó mucho la atención al público televidente. Era exactamente en el gran momento del Boom de la salsa cubana en la que brillaban Los Van Van, NG La Banda, La Charanga Habanera, Revé, Adalberto, Isaac Delgado, Paulo FG, Manolín, los grandes todos de la música bailable. No había para dónde virarse, pero Jesusito venía con una onda distinta, más erótica y suave, con un poquito de tercipelo.
Ese es el motivo por el cual el pianista y director de Dan Den, Juan Carlos Alfonso - su coterráneo - lo llama a sus filas para encuadrarlo en su orquesta con un estilo que jugaba con el de Niche de Colombia: pero con otra mecánica más acubanada y a veces timbera. Casualmente el grupo Niche quiso contratar al pequeño cantor cubano en uno de los viajes a Colombia. "En aquel entonces - dice el Zun Zún - Juan Carlos Alfonso era mi angelito de la guarda, sin él no podía moverme; fue quien me lanzó a la popularidad, se sabe los trucos y las maldades de la canción salsera de Cuba: Donde pone el ojo, pone la bala, le sabe un mundo al negocio de las canciones para bailar. El Chuny me vio en la televisión y averiguó por mí, se enteró que yo soy de su mismo pueblo y, la sangre hala".
Con el Dan Den, Jesusito hizo popular: "Mi Cuerpo" "Mi cuerpo no está hecho de metal/mi cuerpo no está hecho de madera/ dime si te vas/ o dime si te quedas/" (Juan Carlos Alfonso). "Cadena perpetua", "Chica de nieve", "Y lo tuyo qué" (de Jorge del Calle, de Quivicán). Con la entrada al Dan Den Jesusito se interrelacionó con la firma La Nueva Fania a la cual pertenecía Juan Carlos Alfonso. La disquera adquirió algunas composiciones en 1997, una de esas piezas se titula: "La magia", grabada por el grupo Niche de Colombia, tiene noticias que una de sus composiciones fue grabada por Jerry Rivera. La cantidad de composiciones ascienden a más de 80, muchas de esas obras que concibió en esa etapa de oro de la salsa son las que ahora el Zun Zún está grabando con la firma Envidia.
Algunos de sus títulos más conocidos: "La magia", "Muñeco de papel", "Trombón de barrio", "Bajo la luna", "Confundido" y "Mi fiesta". Escribe interesado hacia los asuntos sociales, la gente tomadora, las muchachas y hasta los travesti. Algunas de esas piezas se encuentran en el N* 12 del hit parade de los Ángeles, reflejado en la revista Latín Beat.
La orquesta de Jesusito y Havana City, fue fundada el 2 de marzo del 2002. Mantiene el concepto salsero y timbero, combinado con temas románticos, con ese toque Van Van, al estilo de Jesusito.
Musicians on "No Me Detengo" By Jesus El Zun Zun De La Salsa:

| | | | | |
| --- | --- | --- | --- | --- |
| Jesus F. Salas | Voz solista | | Orlando Montaner | Trombon |
| Arnaldo Jimenez | Bajo | | Ulises Benavides | Trombon |
| Boris Luna | Piano | | Pascual Matos "El Sinsonte" | Coros |
| Jorge "LP" Papiosko | Conga | | Ciso Guanche | Coros |
| Denis Ramirez | Timbal | | Barbaro Lopez "Puchunguito" | Coros |
| Carlos Amores | Guiro | | | |
¿Cuál es la historia del Zun Zún de la salsa? Jesusito nació en la cuidad de las Charangas, a unos 20 kilometros de la capital, en una zona de lomas, desde donde se contempla a lo lejos la gran ciudad. En esa zona campestre nace el Zun Zún en una zona llamada el Caguaso, entre talanqueras de una vaquería donde trabajaba su abuelo Jesús Maza, bajista del conjunto Casino que hizo leyenda en la década de 1950 y 1960. Llegó a tocar con Orlando Vallejo y Orlando Contreras y hasta alternó en bailes con el gran Benny Moré. También trabajó con el padre de Tatico (percusionista de Dan Den), en la orquesta Ilusión. "Eso influyó mucho en mi vida musical - reconoce el cantor salsero - mientras pasa las manos por una de las vacas lecheras. Cuando yo nací, estaba de moda el rock, pero en el tocadiscos de LP de pasta negra, en el tocadiscos de mi casa, lo que sonaba era puro son cubano. También se escuchaban boleros de moda y la ranchera mexicana que tanto gusta en los campos cubanos. Por eso llegué a cantar con el conjunto Melodías del bolero, esos bolerones y mejicanadas, cuando yo solamente tenía seis años, te imaginas el tamaño que tenía en aquel entonces".
Jesusito comenzó aprendiendo a cantar en un grupo llamado Meñique, creado por la maravillosa María Alvarez Ríos, que tuve el honor de llevarla como asesora a la TV en el programa de competencia de voces: Todo el mundo canta. "Allí gané el primer premio de mi vida, a los dos años, en el Festival Que siempre brille el sol. María me ayudó a colocar la voz adecuadamente".
Ya como cantante profesional Jesusito cantó con el grupo de rock, Swing de Bejucal. En 1994, pasó por el grupo Los Dada, hasta que llegó el Dan Den.
Con el Dan Den Jesusito viajó por varios países, cantó en muchos escenarios y ahora con su propia orquesta sigue volando alto, no se ve a lo lejos, pero se siente, se escucha en altoparlantes de la radio nacional e internacional. Sus grabaciones han estado en el hit parade de México, Colombia y en EE. UU.-- por Rafael Lam cronista de la música Cubana.
English: Jesusito is one of most romantic singers of Cuban Salsa, his sensual voice has made him famous. Zun Zún made his debit in Havana in the TV program "Mi Salsa", episode "Buscando El Sonero", were he reached the second place with the song "A ti mi nena", by Randy Vazquez. I remember him in that time when he caught everyone's eyes. It was at that very moment when everybody was crazy for Cuban Salsa, with immensely popular bands like Los Van Van, NG La Banda, La Charanga Habanera, René Adalberto , Isaac Delgado, Paulo FG, Manolin, etc. Nobody thought of anything else but Jesusito, who had in mind a different style, more sensual and erotic.
That is the reason why the pianist and conductor of Dan Den, Juan Carlos Alfonso, asked Jesusito to join his orchestra, to play in a style close to Colombia's Grupo Niche but in a more cuban way. Actually, Niche wanted to engage Jesusito when he toured Columbia. "In these days - says Zun Zún - Juan Carlos Alfonso was my guardian angel, I would do anything without him, he made me famous, Cuban salsa has no secrets for him, he always knows what he must do and also knows all the tricks of this business. Chuny saw me on TV and found out about me, he discovered that we are both from the same village and he fancied it". With the Dan Den band, Jesusito made famous: "Mi Cuerpo" "Mi cuerpo no esta hecho de metal/ mi cuerpo no esta hecho de madera/ dime si te vas/ dime si te quedas" (Juan Carlos Alfonso), "Cadena Perpetua", "Chica de nieve", Y lo tuyo que (by Jorge del Valle, of Quivican).
When Jesusito joined the Dan Den band, he became involved with the record company 'La Nueva Fania', where Juan Carlos Alfonso began. The firm got some compositions in 1997, one of these songs is named "La Magia", recorded by Grupo Niche and also Jerry Rivera recorded another composition. If we count all the compositions, we get more than 80, and many songs of that period are the ones that today, Zun Zún is recording with Envidia.
Some of his more famous songs are: "La Magia", "Muñeco de papel", "Trombon de barrio", "Bajo la luna", "Confundido" and "Mi fiesta". He writes his songs about social problems, working people, young ladies and transvestites. Some of these songs are rated on the Los Angeles salsa charts, as recorded in Latin Beat magazine.
The Jesusito y Havana City orchestra was born on March 2nd, 2002. It sounds like salsa but also mixed with love songs, similar to the Van Van style, but in Jesusito's way.
What is Jesusito Zun Zún's history? Jesusito was born in Charangas town 20km far from the Capital where you can see the big city by far. Zun Zún was born in a rural area called Caguaso, in a cow farm where his grandfather worked. His grandfather was Jesús Maza, bass player of the Casino band that was a legend between the 50's and 60's. He even played with Orlando Vallejo and Orlando Contreras and also with Benny Moré. He also played with Tatico's father - who played drums in Dan Den - in Illusion del 60 orchestra.
"All these had an influence in my musical career - says the singer - as he strokes one of his cows. When I was born, rock was the fashion, but what we heard at home was pure Cuban son. We also listened to ballads and Mexican rancheras, which were very appreciated in Cuba's countryside. These were the reasons why I sang with the Melodias del Bolero band, when I was only six".
Jesusito learned to sing in a band called Meñique, created by the wonderful Maria Alvarez Rios. I had the pleasure to bring her to the TV show Todo el Mundo Canta. "It was there when I got the first prize of my life, at the age of twelve, in the Que Siempre Brille el Sol Festival.
As a professional, Jesusito sang in a rock band called Swing from Bejucal. In 1994, he joined the los Dada Band and then joined Dan Den. With the Dan Den band, Jesusito traveled several countries, sang in lots of stages and now, with his own orchestra, you can see him at the top, you can hear him on national and international radio stations. His recordings had been in the hit parade of Mexico, Colombia and the U.S. -- by Rafael Lam chronicler of Cuban Music