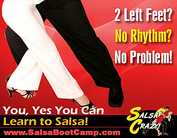 LEARN TO SALSA DANCE
| Style | Released | Album Tracks | Charts |
| --- | --- | --- | --- |
| Instructional | 2008 | 5 | 0 |

| # | Name | Play | Time | Info |
| --- | --- | --- | --- | --- |
| 01 | Join Salsa Boot Camp | Your browser does not support the audio element | 1:27 | audio overview of Salsa Boot Camp |
| 02 | Basic Closed Step | Your browser does not support the audio element | 4:21 | audio sample of basic closed step video lesson |
| 03 | Advanced Salsa Step | Your browser does not support the audio element | 2:57 | audio sample of advanced salsa step lesson |

Three (3) free salsa dance videos courtesy of SalsaCrazy. Learn How To Salsa Dance! Salsa, Bachata, Merengue, Cha Cha: Learn to Dance Step by Step with Your Complete Online Latin Dance School...Faster, and Easier than Anyone Else!
FREE DOWNLOAD
If you choose to download a free multi-media album from this page you agree to make your email available to SALSACRAZY for marketing purposes. Be assured that in all and any resulting communication from SALSACRAZY you will have the choice to opt-out of their email list.

This FREE multi-media album features THREE (3) VIDEOS: a basic closed salsa step with partner lesson, an advanced salsa lesson and a Salsa Boot Camp overview. Just a small sample of all the great videos you'll be able to see on SalsaBootCamp.com!

Click here to join SALSABOOTCAMP today!

Welcome to SalsaBootCamp, Your Members Only Salsa Dance School. The Fastest and Easiest way to Learn how To Salsa, from Absolute Beginners, from your very first steps, to Advanced dancers, you'll find everything you need to become an expert social dancer. Here's are some of the things you'll find on SalsaBootCamp.com:

Step-by-Step Salsa Dance Videos: Discover tons of step-by-step Latin and Salsa dance videos that will guide you through each and every step, pattern, and movement no matter how experienced you are. Two left feet? No problem! Featuring Bachata, Salsa, Merengue, Cha Cha Cha, and more! With multiple breakdowns for leaders and followers, picture in picture close ups, guided practices, and dancing with real Salsa music. . .

The SalsaBootCamp Salsa Forums: Chat with hundreds of other Salsa dancers. . . Ask questions, share experiences, learn more, and be a part of an enormous Latin dance community. Find dance partners in your own local area and discover the fun and excitement behind social Salsa dancing. This is your online Salsa dance scene. . .

The Latin Dance Learning Center: Find articles and insightful information to help you learn more about the dance you're learning. Have questions or concerns? Let us clarify all your uncertainties and shed some light on the rich inter-workings of Latin dance. From history and evolution to breakdowns and tips, this area will provide your helpful guide on and off the dance floor. . .
---