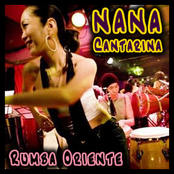 Rumba Oriente
| Style | Released | Album Tracks | Charts |
| --- | --- | --- | --- |
| Afro-Cuban | 2009 | 3 | 0 |

| # | Name | Play | Time | Info |
| --- | --- | --- | --- | --- |
| 01 | Ochun | Your browser does not support the audio element | 6:00 | afro-latin jazz y baile en 6/8 |
| 02 | Dile Adios | Your browser does not support the audio element | 3:59 | salsa contemporaneo con efecto batá |
| 03 | Mi Habana | Your browser does not support the audio element | 5:44 | canto dedicado a Cuba linda |

Musical sampler of afro-cuban songs provided by japanese singer Nana Cantarina. Instrumentation includes batá drums.
Descarga Gratis Al descargar este album multi-media aceptas proporcionarle tu dirección electronica (email) a Nana Cantarina y estas de acuerdo con que te envíen un boletín de suscripción. En toda comunicación de ellos siempres tendrás la opción de elegir que te eliminen de su lista de visitantes.
Free Download If you choose to download this free multi-media album, courtesy of Nana Cantarina, you agree to make your email available to her for marketing purposes. Be assured that in all and any resulting communication from Nana Cantarina you will have the choice to opt-out of their email list.