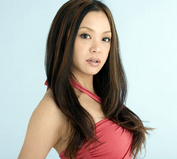 Nana Cantarina
| Home Base | Established | Albums | Charts |
| --- | --- | --- | --- |
| Tokyo, Japan | 1995 | 1 | 0 |
This artist has albums available.

Click on each album title for an expanded view.
| Album Name | Preview | Style | Price | |
| --- | --- | --- | --- | --- |
| Rumba Oriente | Your browser does not support the audio element | Afro-Cuban | Free | |

Japanese singer, performer and composer heavily involved in the afro-cuban music movement.
Born in Osaka, Japan, NANA started to sing Latin music after being recommended by a friend. She was not so serious about it in the beginning. Then she went to Cuba to study music and met Oscar Valdes, a famous former percussionist of Irakere, and he taught her a soul of Cuban music. Cuban music struck NANA as something very familiar, something that she had left in the past. Nana's interest in Cuban music got stronger.
NANA made her first recording as a guitarist for a brass funk rock band called "FRIED EGG JAM", which released its first album, Brass Night Masters, in 1996 under the Song Bird Label. The following year, FRIED EGG JAM released a self-titled album in 1997 on the Tokuma Japan label. The band performed on the P-Funk All-Stars MUTINY JAPAN TOUR in Osaka along with Chuck Brown and Adriana Evans. But FRIED EGG JAM was disbanded in 1998. (In 2008, FRIED EGG JAM reunioned with a few of the original members.)
In 1997, NANA joined timba band "Sabrosura Del Sonido" and also started to sing in a band led by a well-known bassist in Osaka -the Yoshio Yamada Band. Between 1998 and 2005, NANA went to Cuba every year, studying dance and improvisation, taking lessons from Oscar Valdés of former Irakere, Caridad of Clave y Guaguanco and Sergio of "Yoruba Andabo".
As a member of the afro-pop group CHEQUENDEKE she has performed with a number of prestigious Cuban artists. She was also formally invited by the Ministry of Culture to participate in the international music festival, which is the biggest music event in Cuba in 2004 and 2005. Recently, she is also active in spreading the joy of Latin music to wider audience in Japan. She has been performing Latin music at elementary, middle and high schools. She also participated in annual Fuji Rock Festival which is the biggest outdoor rock music festival in Japan.


She started her solo performance in 2007. That same year she boarded on a Peace Boat, which is a japanese based NGO-run chartered passenger ship that travels around the world, as a guide to Cuban culture. Nana performed on two Cubadisco Tours (2004 & 2005).
NANA has performed with the following groups:
Chequendeke
Juan Carlos Lopez y su Sincopa-Son
Takeuchi "TATATA" y su Grupo Aché
Latin Estrella
Fried Egg Jam
..and recorded on the following albums:
[Brass Night Masters] V.A (FUNK/ROCK/ACID) 1996 Song Bird Label
[FRIED EGG JAM] FRIED EGG JAM (FUNK/ROCK) 1997 Tokuma Japan
[CUBANSOUL] SABROSURA DEL SONIDO (TIMBA) 2001 AHORA Corporation
[BUENAS IDEAS] SABROSURA DEL SONIDO (TIMBA) 2002 AHORA Corporation
[ORIENTARHYTHM] COOLEY (POPS/WORLD) 2002 IRVING Inc.
[SALSA JAPONESA] VA 2004 AHORA Corporation
[HIFANA PRESENTS "NAMPOO CABLE"] V.A 2006 Columbia Music Japan