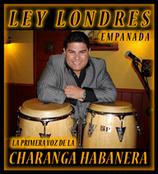 Primera Voz
| Style | Released | Album Tracks | Charts |
| --- | --- | --- | --- |
| Timba | 2009 | 5 | 0 |
$5.99

© 2009 Ley Londres. All rights reserved.
Audio album download includes album tracks, liner notes and cover art.
All audio tracks in MP3-VBR format. About LPM album downloads.

| # | Name | Play | Time | Info |
| --- | --- | --- | --- | --- |
| 01 | Copa De Licor | Your browser does not support the audio element | 5:26 | otra llegara a robar el nectar de mis labios |
| 02 | Deja Correr | Your browser does not support the audio element | 6:09 | si la dejas correr se te va...aguántala |
| 03 | Placer De Amar | Your browser does not support the audio element | 5:29 | te dare la llave que abre la puerta de mi extensa intimidad |
| 04 | Verbo Del Amor | Your browser does not support the audio element | 7:33 | vale, tu prenda si vale, sabroso |
| 05 | Nadie Sabe | Your browser does not support the audio element | 6:07 | todo lo sabe, la preferida, es sensacional |

Grabadas en los estudios de Radio Progreso en la Habana, Cuba, entre el final del 1991 y es comienzo del 1992, estas pistas han sido restauradas para brindarles 5 temas de Ley "Empanada" Londres -la PRIMERA VOZ de la Charanga Habanera.
Recorded during the end of 1991 and the beginning of 1992 at the studios of Radio Progreso in Havana, Cuba, these lost tracks feature the now iconic group "La Charanga Habanera" with their very first singer -Ley Londres. Ley also co-composed and played bass on the tracks.

These tracks have been digitally restored. For a sample of the original tracks click here.
Ley Londres (con guiro) - ensayo de la Charanga Habanera en casa de David Calzado 1991
Músicos en La Primera Voz de la Charanga Habanera de LEY LONDRES
| | |
| --- | --- |
| Ley Londres | cantante, bajo, compositor |
| David Calzado | director, compositor |
| Pedro Pablo Gutierrez | contrabajo, bajo |
| Manuel Arranz | pianista, teclados |
| Juan Carlos Gonzalez | pianista, viola |
| Eduardo Lazaga | timbal, percusiones |
| Victor Zagarra | congas, director de bailes |
| Jorge Maza | saxofón y flauta |
| Victoriano Patterson | primera trompeta |
| Leonel Polledo | segunda trompeta |
| Pedro Fajardo | violines |
| Juan Carlos González | piano, viola, arreglos |
| Moises "Yumuri" Valle | coros |
| El Pichi | coros |
Charanga Habanera con esta orquesta di un salto de gigantes, pues en ella encontré libertad para componer y cantar mis propias canciones, allí conocí a amigos y músicos de muchísimo nivel y carisma, todos me aportaron sabiduría y conocimientos. Trabajamos en una idea que hoy día perdura con fuerza y reconocimiento popular, muchos no saben lo que en verdad sembramos aquellos años, fuimos innovadores y creadores de bailes y armonías novedosas, la elegancia en todo lo que hacíamos estaba en boca de todos, rompimos con todo, empezando por la unión, la buena amistad y cordialidad entre los integrantes del equipo, sin esos músicos y sin esos valores no hubiera pasado nada, el maestro David Calzado nos unió a todos y nos enseño el camino y su genial idea de lograr una orquesta como no había existido ninguna en la isla de Cuba, en lo personal le agradezco toda la formación como cantante que me dio . Después todo cambio pues nada es infinito y estable en nuestras vidas, hay muchos capítulos que no puedo escribir; pero si decir que fue necesario mi cambio de rumbo en la vida, tenia que escoger entre el amor y la popularidad, estaba a punto de dar mi gran salto en la música de mi país, pues me esperaban grabaciones discográficas, viajes importantes y reconocimiento mundial, era una posición muy difícil de aceptar; pero aun así no me deje llevar por el impulso de la fama, escuche a mi corazón y después de meditarlo muchas veces, tome la decisión de unir mi vida a la mujer de mis sueños. Ya en uno de mis viajes a España había conocido a mi esposa y me vine a vivir a esta querida y amada tierra española.
Ley Londres (chaqueta azul) bajista de la Charanga Habanera 1992
Ley Londres con la Charanga Habanera en el Teatro Infanta 1992