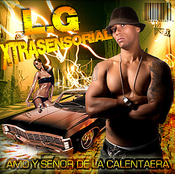 Amo y Señor de la Calentaera
| Style | Released | Album Tracks | Charts |
| --- | --- | --- | --- |
| Reggaeton | 2009 | 12 | 0 |

| # | Name | Play | Time | Info |
| --- | --- | --- | --- | --- |
| 01 | Cuchi Cuchi | Your browser does not support the audio element | 4:04 | ay papi que rico tu....mmm,mmm, mmm |
| 02 | Me Gusta | Your browser does not support the audio element | 2:37 | pa'que esta pachanga se embarre con tu sabrosura |
| 03 | Pasale Otra Copa | Your browser does not support the audio element | 2:43 | cuerpo tan exacto a punto de un infarto |
| 04 | Contigo Yo No Gano | Your browser does not support the audio element | 3:27 | que debajo del ombliguito |
| 05 | Bemba Colora | Your browser does not support the audio element | 3:25 | la reina del carnaval, una negra rubia |
| 06 | Sexy Diva | Your browser does not support the audio element | 3:39 | cash cash cash cash |
| 07 | No Se Si | Your browser does not support the audio element | 3:59 | soy una mas en la disco sudando el licor |
| 08 | Mery Mery | Your browser does not support the audio element | 4:02 | te resbalas como smoothie cuando llegas a mi cherry |
| 09 | Raspa | Your browser does not support the audio element | 3:52 | .....perrea perrea perrea |
| 10 | Hay Que Frontear (reggeaton) | Your browser does not support the audio element | 3:13 | ya tu sabes hay que ranquearse |
| 11 | Tose Y Vuela | Your browser does not support the audio element | 2:31 | ella dice que no chicha |
| 12 | Hay Que Frontear (hip-hop) | Your browser does not support the audio element | 3:13 | pa'que bailen con mis tonos |

With over 40,000 previews already posted on his MySpace page, this highly anticipated release from urban music artist LG features the hit "Cuchi Cuchi" among other hot regueton tracks. The perfect "grind with your girl" party album.
ESPAÑOL: Que ocurre cuando combinas el talento y experiencia de la "Vieja Escuela", los movimientos y ritmos de uno de los mejores bailarines de "Hip Hop" del pais y el fisico sensual de un latino sensual de un latino caliente? Esto se puede resumir con dos letras: LG. Nacido el 19 de Octubre de 1973 y criado en San Antòn de Carolina, Puerto Rico; Jorge Luis Sanchez Lopez comenzo su carrera artistica a la temprana edad de 14 como bailarin del grupo "DTK". Luego de graduarse de la esuela secundaria completo un bachillerato en Justicia Criminal. Su increible carisma y talento lo llevaron rapidamente al exito colaborando con artistas como Vico C, Brewley MC, Lisa M y Ruben DJ. Continuando con su carrera como bailarin profesional en el año 1990 gano la competencia nacional de "Hip Hop" en el estadio Roberte Clemente en San Juan. Luego compartio el escenario con artistas internacionales como:Lourdes Robles, Juan Gabriel, Ednita Nazario, Angela Carrasco y Olga Tañon. En el año 2000 va a Miami y decide llevar su carrera al siguente nivel, cantar asi comenzo a entrenar su voz y escribir.
En el año 2004 se mudo a Tampa donde conocio a DJ Blaster, quien le proveyo con ritmos para ayudarlo a practicar y prepararse para lo que lo esperaba. Mas tarde LG conoce a DJ Lex, juntos produjeron su primer demo y comenzaron a exponer su trabajo en la Florida incluyendo La Parada Nacional Puertorriqueño en Tampa. Mientras hacia presentaciones un conocido productor puertorriqueño de reggaeton lo descubre y le ofrecio regresar a la isla y continuar trabajando. Una vez llega a Puerto Rico "Luis Guille" colabora con artista de la industria y se reune con su vieja amiga Lisa M para la cual compuso dos temas para su ultima produccion: 'Viciosa' y 'Quedate en cuero'.
Ya pasado el tiempo LG tiene la oportunidad de conocer un joven y talentoso musico llamado Danny Fornaris. Juntos fundaron Fusssion Musik y comenzaron a trabajar en el primer album de LG. En el presente LG a "revolucionado" el reggaeton con su hit sensual "Cuchi Cuchi" el cual atrajo la atencion del publico en solo dias. Tambien ha trabajado en diferentes produccion de "reggaeton" como: Naldo's Sangre Nueva Special Edition, Gargolas V y promovio el album de Guatauba University con la cancion "Guatatata". Ha colaborado con artistas como Justin Timberlake, Shakira y Alexis "El Pitbull" del duo Alexis y Fido y otros mas. Ha trabajado en campañas publicitarias como el de Medalla "Si bebes no Guies" y Midori "Fresh Look". Este talentoso artista ha cautivado el publico tanto en el Caribe y Estados Unidos como en Europa añadiendo aun mas experiencia a su ya impresionante carrera.