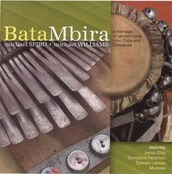 BataMbira
| Style | Released | Album Tracks | Charts |
| --- | --- | --- | --- |
| Afro-Cuban | 2005 | 8 | 0 |
$10.99

© 2005 BataMbira Productions. All rights reserved.
Audio album download includes album tracks, liner notes and cover art.
All audio tracks in MP3-VBR format. About LPM album downloads.

| # | Name | Play | Time | Info |
| --- | --- | --- | --- | --- |
| 01 | Butsu Mutandari-Iyesa | Your browser does not support the audio element | 4:34 | shangara dancers tap the rhythm with their shoes |
| 02 | Nhemamusasa-Afrekete | Your browser does not support the audio element | 9:00 | hunting song, Afrekete is Yemaya |
| 03 | Baya Wabaya | Your browser does not support the audio element | 4:31 | "to spear", battle song, Oya female warrior |
| 04 | Nyamaropa-Mase | Your browser does not support the audio element | 7:36 | "problems can be disguised opportunities", Oshun |
| 05 | Shumba-Oya | Your browser does not support the audio element | 6:26 | why do you not show yourself lion?, Oya calls spirits |
| 06 | Kariga Mombe-Obakoso | Your browser does not support the audio element | 9:00 | "taking the bull by the horns", Chango warrior king |
| 07 | Hangaiwa | Your browser does not support the audio element | 4:44 | enduring love of pigeon dove, Babalu-Aye and Osain |
| 08 | Nyamamusango-Chango | Your browser does not support the audio element | 8:28 | pursue your destiny, Chango please appear |

A marriage of sacred music from Cuba and Zimbabwe. Also featuring Sonyalsis Feldman and Jesus Diaz. Album includes extensive liner notes and information regarding both African and Cuban folkloric music.

The mbira is an African instrument of the Shona people from Zimbabwe. It consists of 22-28 metal keys (lamellae) affixed to as tray-shaped wooden soundboard and plucked with the thumbs and forefinger. It is considered a sacred medium for communicating with ancestral spirits.

The batá drums are a family of three double-headed, hourglass shaped drums of varying sizes brought by the Yoruba people of Nigeria to Cuba during the slave trade of the 19nth century. They are used in sacred ceremonies related to the orishas (deities), and accompany songs in Lucumi, a New World version of the Yoruba language.

The story of BataMbira:
In the fall of 1998, I had the great pleasure (with the help and encouragement of my good friend and fellow percussionist, Beverly Botsford) of bringing Michael Spiro to Winthrop University, where I teach in South Carolina, for a series of lessons and masterclasses. Between sessions, Michael and I sat in my office sharing experiences and mutual interests. I told him of my interest in the Zimbabwean mbira dzavadzimu (the "mbira of the ancestors") and we had a lively discussion about the cultural similarities between mbira and the Cuban bata drum. Both are sacred instruments with deep African roots. Both are used as spiritual media for contacting the ancestors (playing these instruments can be considered "praying with the hands").

I took my mbira, closed my eyes, and began to play, singing in Shona: "Mushazoi sekerera nhamo ichauya..." ("Are you going to smile when the problem comes?"). When I finished, I opened my eyes to see a wide-eyed Michael Spiro about to leap across the desk toward me. "How'd you learn to do that?" he asked excitedly. I told him I'd had a couple of lessons here and there, but I had mostly learned on my own from various recordings. "Williams," Spiro glared at me. "That's impossible! But if it's true, do you think it's an accident that I'm here? Do you think you can just learn to play and sing like that in Rock Hill, South Carolina? When I closed my eyes, I heard an African singing! Many years ago, I was told by my elders that there is an African ancestor "walking" in my path, helping me to fulfill my destiny. I'm here to tell you there is an African in your path also. A American from South Carolina isn't supposed to play and sing like that unless there is an African in his path! You're my twin!"

We laughed at the irony of two Americans delving into the music of such far-removed cultures, and marveled at the similarities between the two African cultures that birthed these musical and cultural phenomena. Spiro joked that we should make a record together some day.

We kept in touch and Michael returned to Winthrop to teach occasionally. We continued to dream about making a record together, but we really didn't know if the Cuban vocals accompanied only by drums, bells, and shekeres would be able to interface with the harmonic progressions of mbira music. One day, I received a package from Michael; a stack of CDs --- maybe a hundred Cuban songs. "Find some that fit the mbira changes," he said. Feeling a bit like I was looking for a needle in a haystack, I set to work. With about a dozen mbiras in various tunings surrounding me, I listened to the recordings and tried to play along --- tune, after tune, after tune. I discovered a song that fit. Like a fisherman, I tossed my line in again. Soon, it began to feel as if the tunes were finding me as much as I was finding them. This was a lesson in synchronicity, and I was learning the value of stepping back and letting these ancient songs find each other. There was a bit of magic unfolding in the process.

As Michael and I began fashioning our raw materials into a musical Gestalt, we began to discover that the tunes we had chosen (or had they chosen us?) were interfacing on a number of levels. It seems that time and time again we were finding that the songs fit together semantically as well as musically. The project gradually took on a life of its own, and again we discovered the wisdom of getting out of the way and letting gravity take its course. In the process, a record took shape, our understanding of the incredible depth of this music increased, and a deep and lasting friendship was forged. To this day, we call each other "Twin." It is with deep humility and respect that we offer this music in memory of our ancestors, and yours. -Michael Williams

About Michael Spiro:
Michael Spiro is an internationally recognized percussionist, recording artist, and educator, known specifically for his work in the Latin music field. He has performed on hundreds of records, co-produced several instructional videos for Warner Bros. Publications (featuring such renowned artists as David Garibaldi, Changuito, Giovanni Hidalgo, and Ignacio Berroa), and produced seminal recordings in the Latin music genre, including Orquesta Batachanga, Grupo Bata-Ketu, and Grupo Ilu-Aña.

About Michael Willimas:
B. Michael Williams is Professor of Music and Director of Percussion Studies at Winthrop University in Rock Hill, South Carolina. Active as a performer and clinician in both symphonic and world music, Williams has performed with the Charlotte (NC) Symphony, Lansing (MI) Symphony, Brevard Music Center Festival Orchestra, and the Civic Orchestra of Chicago, and has appeared at four Percussive Arts Society International Conventions. He has written articles for Accent Magazine, South Carolina Musician, and Percussive Notes, and has made scholarly presentations on the music of John Cage and on African music at meetings of the College Music Society and Percussive Arts Society (PASIC).

Dr. Williams is Associate Editor (world percussion) for Percussive Notes magazine. A composer of innovative works for percussion, his "Four Solos for Frame Drums" was the first published composition for the medium. Additional works to his credit include "Three Shona Songs" and "Shona Celebration" for marimba ensemble, "Recital Suite for Djembe," "Tiriba Kan" for solo djembe, "Bodhran Dance," and "Another New Riq," all published by HoneyRock Publications. His book, Learning Mbira: A Beginning...,also published by HoneyRock, utilizes a unique tablature notation for the Zimbabwean mbira dzavadzimu and has been acclaimed as an effective tutorial method for the instrument.