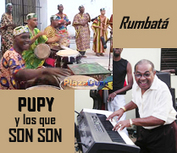 PlazaCUBA Videos
| Style | Released | Album Tracks | Charts |
| --- | --- | --- | --- |
| Timba | 2010 | 2 | 0 |

| # | Name | Play | Time | Info |
| --- | --- | --- | --- | --- |
| 01 | Que Mal Te Portaste | Your browser does not support the audio element | 4:42 | free Rumbatá video download courtesy of PlazaCUBA |
| 02 | La Habana Se Lo Llevó | Your browser does not support the audio element | 7:16 | free Pupy Pedroso video download courtesy of PlazaCUBA |

Enjoy these free Cuban music video clips courtesy of PlazaCuba, a humanitarian-based arts organization that specializes in travel to Cuba and Cuban music, dance, art and cultural exchange. These video clips have a total playing time =
11:58 mm:ss
. Enjoy!
This FREE DOWNLOAD includes 2 QUICKTIME VIDEO FILES - one of the Camagüey folkloric group RUMBATÁ performing a song titled "Que Mal Te Portaste" and the other is a full song of a concert at la E.N.A. (National School of the Arts) by world famous timba group Pupy y los que Son Son.

If you choose to download this free video album you agree to make your email available to PlazaCUBA for marketing purposes. Be assured that in all and any resulting communication you will have the choice to opt-out of their email list.
PlazaCUBA is an organization of founders, friends and family who love the arts—particularly music and dance. Alisa Froman, Executive Director, established PlazaCUBA in the year 2000 and is the visionary creator behind projects and events. She has studied Cuban culture and religion for many years and continues to be a knowledgeable and loving member of an international community interested in investigating and preserving Cuban culture. Alisa is also an accomplished Afro-Cuban folklore and salsa dancer and performs in the San Francisco Bay Area with various groups.
http://www.PLAZACUBA.com plazacuba [at] yahoo [dot] com
PlazaCUBA is dedicated to developing projects that investigate and preserve Cuban culture such as music and dance workshops, humanitarian programs, and documentary films. PlazaCUBA also coordinates and promotes events in the San Francisco Bay Area. Their extensive website (www.PlazaCUBA.com) provides a wealth of information about travel to Cuba, the music and dance scene in Havana, and cultural events around the island.
PlazaCUBA - providing information about Cuban music, dance, art, culture and travel to Cuba.