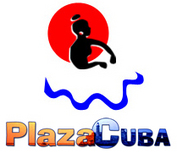 PlazaCUBA
| Home Base | Established | Albums | Charts |
| --- | --- | --- | --- |
| San Francisco (CA), United States | 2000 | 1 | 0 |
This artist has albums available.

Click on each album title for an expanded view.
| Album Name | Preview | Style | Price | |
| --- | --- | --- | --- | --- |
| PlazaCUBA Videos | Your browser does not support the audio element | Timba | Free | |

PlazaCUBA's mission is to foster the investigation and preservation of Cuban music and culture through international collaboration. We are dedicated to bridging the gap between Cuban and American artistic communities, as well as providing a network for participants of PlazaCUBA events to receive and share information.
PLAZA CUBA is an organization of founders, friends and family who love the arts—particularly music and dance. Alisa Froman, Executive Director, established PlazaCUBA in the year 2000 and is the visionary creator behind projects and events. She has studied Cuban culture and religion for many years and continues to be a knowledgeable and loving member of an international community interested in investigating and preserving Cuban culture. Alisa is also an accomplished Afro-Cuban folklore and salsa dancer and performs in the San Francisco Bay Area with various groups.
http://www.PLAZACUBA.com plazacuba [at] yahoo [dot] com
Many people have been involved in the development and evolution of PlazaCUBA including the following important contributors: Donald Gronberg, Melissa Daar, John Calloway, Vanya Goldberg, Ariana Hall, Don Skoog, Loralie Froman and Carmen Aguirre. PlazaCUBA also enjoys working with the National School for the Arts, the filmmakers of ICAIC, members of music and dance groups Ban Rarrá, Rumbatá and Raíces Profundas, the Cuba Yoga Association and staff from Havana's herbal medicine gardens and pharmacies.
Programs in Cuba
Over the years, PlazaCUBA has organized many trips to Cuba for individuals and groups. Our main focus has been music and dance, following in the footsteps of our predecessor Caribbean Music and Dance Programs (CMDP). For most of the 1990s and up until 2004, CMDP and PlazaCUBA were issued specific licenses for legal travel to Cuba in the "Educational/People-to-People" category, which enabled us to run programs in Cuba dedicated to the arts. Changes in travel regulations in 2004 led to the omission of legal travel for educational purposes. We continue to dedicate ourselves to bringing Cuban music and dance to our community, offering travel advisement to legal travelers and providing important information about Cuba and its culture on our website.
U.S. Tours of Cuban Groups
Before 2004, Cuban artists were also more easily able to obtain visas to enter the United States to perform, receive awards and display their work. During this period, PlazaCUBA played an instrumental role in many nationwide tours of Cuban artists, including Valle Son, traditional son group from Viñales; the dynamic folklore company Ban Rarrá; piano player Frank Emilio Flynn; Juan de Dios Ramos, Afro-Cuban dance teacher, lecturer, babalawo (priest); and Narciso Medina Contemporary Dance Company. See Past Events for more details.
Projects Inspired by our Work
Alisa Froman and Melissa Daar, through their work with CMDP and PlazaCUBA, have connected many Cuban and American musicians who share the common goal of investigating and preserving Cuba's important musical traditions. Here are just a few examples, Roberto Viscaino, percussionist and teacher, was brought annually to Cleveland by the Contemporary Music Project to teach and perform. Music course participant and professor Chris Brown brought ethnomusicologist, Miguel Angel Garcia to Mills College in Oakland. Dean Anderson of the Berklee School of Music in Boston met Enrique Plá of Irakere on a CMDP music program and invited Plá and other percussion masters to Berklee for the International Percussion Conference. Yosvany Terry taught at the Stanford University Jazz Workshop on the invitation of Jim Nadel, Stanford music professor and the jazz workshop director. We are proud to have contributed to these valuable cultural exchanges between artists and to the development of many long lasting friendships.