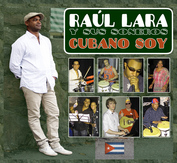 Cubano Soy
| Style | Released | Album Tracks | Charts |
| --- | --- | --- | --- |
| Son | 2012 | 8 | 0 |
$7.99

© 2012 Raúl Lara. All rights reserved.
Audio album download includes album tracks, liner notes and cover art.
All audio tracks in MP3-VBR format. About LPM album downloads.

#
Name
Play
Time
Info
01
Celosa

Your browser does not support the audio element

4:03
Raúl Lara director, compositor, cantante, percusión
02
El trágico

Your browser does not support the audio element

4:10
Rolando Lara bongó, congas, batá Ignacio Guerra congas(3)
03
Obatalá y Changó

Your browser does not support the audio element

4:10
Jorge Greenidge cantante principal (1-4-7), coros (2)
04
A tu manera

Your browser does not support the audio element

4:10
David Tornebäck piano, excepto (3) Richard Ortega
05
Baila suavecito

Your browser does not support the audio element

4:10
Lily Hernández cantante, Ariadna Abreu coros
06
No me lo niegues

Your browser does not support the audio element

4:10
Janne Bogdan tres, bajo, Klas Nilsson trompetas
07
Cubano soy

Your browser does not support the audio element

4:10
Joannly Collado coros, Oslen Ceballo trompetas
08
Maferefún Elegwa

Your browser does not support the audio element

4:10
Eduardo Velázquez timbales, Rubens Millet bongó
Play All - Oir Todas

Debut solo release from singer, composer and percussionist Raúl Lara. Featuring some of Europe's best Cuban music singers and musicians - Janne from Soneros All Stars, Lily from Lily Hernández y su Sonora Clásica, Oslen from Oro Negro, Jorge Greenidge (Aldalberto Álvarez), Richard Ortega (Maykel Blanco) among others, Cubano Soy is an original work that pays tribute to the classic sounds of Cuba, from the popular to the folkloric.
* 2013 GRAMMY AWARD NOMINEE for BEST TROPICAL LATIN ALBUM *
Sobre Raúl Lara y sus Soneros - El compositor galardonado, cantante y percusionista, Raúl Lara, ha formado un equipo de ensueño de diez músicos cubanos y suecos, uno de los principales grupos de música cubana en Europa: Raúl Lara y sus Soneros.

El grupo se basa en la configuración del son tradicional - un par de vocalistas, dos trompetas, piano, contrabajo, tres, timbales, congas, bongos - y además se combinan otros instrumentos típicos cubanos, como las claves, maracas y güiro. Raúl es el autor y compositor de toda letra y música. Los músicos del grupo son muy bien conocidos y tienen experiencia con algunas de las más grandes estrellas de la música cubana: Buena Vista Social Club, Omara Portundo, Afro-Cuban All Stars, Azúcar Negra, Adalberto Álvarez y Soneros All Stars.

El resultado es alegría pura. Raúl Lara y sus Soneros ha estado de gira por Escandinavia desde el 2009. Asegúrese de revisar el primer álbum de Raúl como artista: Raúl Lara y sus Soneros CUBANO SOY.
Créditos de CUBANO SOY por Raúl Lara y sus Soneros
Producer: Raúl Lara
Photography: Franky Lorenzo, Åke Matsson, Raúl Lara
Recorded at: Lara Brothers Studio, Oct 2009-June 2011, Gothenburg, Sweden by Raúl Lara
Additional Recordings at: Soneros Records, Stockholm
Mixed at: Lara Brothers Studio and Viktoria-Studion by Raúl Lara and Lars Wallgren
Mastering, cover design and layout: Michael Lazarus of http://LatinMusicMastering.com

With Thanks to: All musicians who participated on this record and my beloved family and friends for always supporting me.
Special Thanks to: Anna Jacobson, Rolando Lara, Janne "Yanesito" Bogdan, Oslen Ceballo, Lis Nydahl, Lars Wallgren, Franky Lorenzo, Mauro Rojas, Theresa Montebelli, Oscar Alm, Michael Lazarus for all their help with this project.
And at last: Warm appreciation of all musicians, past and present, who have dedicated their lifes to Son and are a source of inspiration for me. Modupue Olofi, Modupue Egungun, Modupue Orisa.

File under: Son, Salsa, Sonero, Cuba, Latin, World
Internet: www.raullara.com
facebook: Facebook oficial de Raúl Lara
E-mail: raullara@live.se

Sobre Raúl Lara - Raúl nació el Día de San Valentín, Febrero de 1965, en el barrio de San Martín, El Cerro, justo detrás de la Plaza de la Revolución en La Habana, Cuba. Fue bajo el tutelaje de José Luis Quintana, también conocido como Changuito, uno de los percusionistas más importantes del mundo, que Raúl comenzó su carrera profesional con los diferentes grupos, trabajando principalmente en los grandes hoteles de la Habana.

En 1990 Raúl hizo las maletas y se mudó a Suecia. Desde entonces, ha continuado tocando con diferentes grupos como Timba Odara, El Rey Changó, Son Entero, y Laroye. Siempre abrigando la colaboración con su hermano Rolando Lara, Raúl ha realizado giras por el norte de Europa, donde su experiencia con los ritmos latinos no se ha limitado a explorar el jazz, los diferentes tipos de música africana, caribeña, pop y música folclórica europea. Pero su alma está, y siempre será, con las raices de la tradición afro-cubana.

Desde los primeros años en Suecia, Raúl se ha desarrollado como compositor, con su propio sonido único e influencias de los diferentes sonidos emblemáticos de Cuba: Rumba, Bolero, Danzón y el Son. Las letras de sus canciones tienden a contener referencias a la vida cotidiana en Cuba, así como la religión afrocubana, la Santería, que desempeña a parte importante de su vida. Raúl ha formado una serie de grupos de salsa y de su música tropical, pero nunca ha estado tan cerca a su sonido y sello preferido como con su nuevo grupo Raúl Lara y sus Soneros.