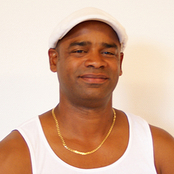 Raul Lara
| Home Base | Established | Albums | Charts |
| --- | --- | --- | --- |
| Gotemburg, Sweden | 1983 | 1 | 0 |
This artist has albums available.

Click on each album title for an expanded view.
| Album Name | Preview | Style | Price | |
| --- | --- | --- | --- | --- |
| Cubano Soy | Your browser does not support the audio element | Son | $7.99 | |

Cuban singer, percussionist, composer and leader of the Swedish musical group "Raúl Lara y sus Soneros". Raúl's musical experience in his island homeland included an extended period of study with master percussionist José Luis Quintana "Changuito".
About Raúl Lara: Raúl was born on Valentines Day, February 1965, in the quarters of San Martín, El Cerro, just behind the Plaza de la Revolution in Havana, Cuba. In a family of dancers and musicians, music came natural to Raúl. For as long as he can remember, he has loved, listened to and played Cuban music.

In the 80's Raúl was playing with different groups at Casa de Cultura in Cuba. He was tutored by José Luis Quintana, also known as Changuito, one of the world's top percussionists. At the same time Raúl started off his professional career with different groups playing mainly the large hotels in Havana, for example the Hotel Itabo and Hotel Mar Azul.


In 1990 Raúl packed his bags and moved to Sweden. Since then he has continued playing with different groups like Timba Odara, Rey Changó, Son Entero and Laroye. Always cherishing the collaboration with his brother Rolando Lara, Raúl has toured the northern parts of Europe, where his expertise with latin rhythms has not limited him to explore jazz, different kinds of African music, Caribbean, Pop, and European Folk Music. But his soul is, and always will be, steadily rooted in the Afro-Cuban tradition.

Since the early years in Sweden Raúl has evolved as a composer, with his own unique sound and influences from the different iconic sounds of Cuba: Rumba, Bolero, Danzón and Son. Raúl also has his own way with the lyrics of his songs. They tend to contain references to everyday life on Cuba, as well as the African Cuban religion, Santeria, which plays an important part of his life. He has also been recognized as a composer on different occasions. Raúl has formed a number of salsa and son groups of his own, but never has he been so close to his preferred sound as with his new group, Raúl Lara y sus Soneros.
About Raúl Lara y sus Soneros: The awarded composer, singer and percussionist, Raúl Lara, has formed a dream team of ten Cuban and Swedish Son musicians - one of Europe's absolute top Cuban groups.
The group relies on the traditional son configuration - a couple of vocalists, two trumpets, piano, bass, tres, timbales, congas, and bongos combined with other typical Cuban percussion such as claves, maracas and güiro. All music and lyrics are written by Raúl himself. The musicians Raúl has gathered are all well-known and have touring experience with some of the biggest stars of Cuban music, such as Buena Vista Social Club, Omara Portundo, Afro-Cuban All Stars, Azucar Negra, Adalberto Álvarez and Soneros All Stars.

The result is pure Cuban joy. Raúl Lara y sus Soneros has been touring Scandinavia since 2009. Be sure to check out Raúl's first release as a solo artist: Raúl Lara y sus Soneros CUBANO SOY.