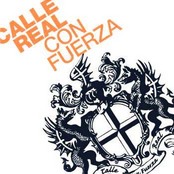 Con Fuerza
| Style | Released | Album Tracks | Charts |
| --- | --- | --- | --- |
| Timba | 2006 | 12 | 0 |
$10.99

© 2006 Calle Real. All rights reserved.
Audio album download includes album tracks, liner notes, lyric sheets and cover art.
All audio tracks in MP3-VBR format. About LPM album downloads.

| # | Name | Play | Time | Info |
| --- | --- | --- | --- | --- |
| 01 | Somos Calle Real | Your browser does not support the audio element | 6:57 | .....ahí con fuerza sí |
| 02 | El Momento | Your browser does not support the audio element | 5:42 | song includes viola, violin and cello orchestration |
| 03 | Esperanza | Your browser does not support the audio element | 5:37 | now that's a good bloque coming out of the bomba |
| 04 | Rompiendo Murallas | Your browser does not support the audio element | 6:46 | in your face from start to finish |
| 05 | Rumba de la Calle | Your browser does not support the audio element | 0:35 | ...that's exactly what is sounds like |
| 06 | Soy Bueno Soy Malo (La Rosa) | Your browser does not support the audio element | 6:32 | soy hecho de las ambas cosas |
| 07 | El Beso | Your browser does not support the audio element | 4:49 | also called 'La Rana' by fans |
| 08 | Amor Tal Vez Perdido | Your browser does not support the audio element | 5:36 | ...ballad intro....then Calle Real swing |
| 09 | Dime Que Me Quieres | Your browser does not support the audio element | 3:52 | a jazzy timba tune with Wurlitzer vibe |
| 10 | Princesa (Timba) | Your browser does not support the audio element | 6:19 | this is the first single from Con Fuerza |
| 11 | Sueña Conmigo | Your browser does not support the audio element | 7:50 | si no te cuadra me voy con otra...BOMBA |
| 12 | Ya Lo Sé | Your browser does not support the audio element | 3:19 | un son tradicional.....acoustico |

Popular debut from Sweden-based timba group Calle Real. Features the hits 'Princesa' and 'Esperanza'.
CON FUERZA - 2006
Timba con Groove
Review by
Michelle White
© Timba.com (LPM sister site)
Calle Real's debut CD, Con Fuerza, is the culmination of a seven-year journey that has taken the band from Buena Vista Social Club style son group to a Timba band with a sello diferente. The band today consists of ten musicians, but the CD features the participation of several previous members who have moved on to other projects as well as many invitados, for a total of 21 people beyond the regular band members, so you'll just have to read the cover yourself for the complete list. Oh, by the way, the CD has different distributors for Sweden, Europe and the US, so the CD cover will differ depending on where you buy it.
The name Calle Real immediately takes your thoughts to the streets, and the CD has some interesting moments where they have included recordings from the streets of Cuba, such as beginning of the first song, Somos Calle Real, that features a recording of the introduction of Calle Real at their performance at the Beny Moré Festival in Cuba in 2003. Rompiendo Murallas fades into a 35-second Rumba de la Calle with Horacio Rodríguez on lead vocals. Amore Tal Vez Perdido ends with a 30-second recording of a girl improvising on the streets of Havana, and Soy Bueno, Soy Malo (La Rosa) begins and ends with something that sounds like it was recorded from a TV or radio program. These little moments underline the fact that while the band is Swedish, La Habana is their inspiration.
The instrumentation of the group is typical for Timba: drums with timbal, congas, güiro, piano and synth, bass (baby and electric), trombones and trumpet, and the sound of the band is rounded off with tres. There is only one lead singer, Thomas Eby, while trombonist/güirero Karl Frid and tresero Patricio Sobrado sing coro. Thomas has a tenor voice with a light timbre that makes him instantly recognizable, even on the coros.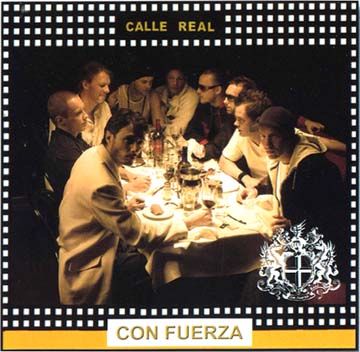 Their music is hard-driving Timba, including excellent piano tumbaos, and plenty of gear changes that let you get your despelote on, an essential part of Timba for me. The inclusion of the tres adds another dimension to the guajeos, and although this instrumentation leads one to think of Revé, the band doesn't sound like Revé. In fact, they don't quite sound like anyone else. There is a swing or a groove that is very distinctive throughout the entire album; fast songs and slow songs alike. For me it is this heavy groove that characterizes the CD. I saw the band perform recently at a youth center and the young people were dancing, not casino, but they were all able to dance to the songs, and I think this groove is what makes it possible.
Honestly I enjoy the album so much that it is hard to pick favorite songs. The mark of a good CD is when you don't have to skip any songs to get to the ones you like best. Con Fuerza contains 12 songs: eleven are timba, one is son. The ones destined to be the biggest dance hits are Somos Calle Real, Esperanza, Rompiendo Murallas, El Beso, Princesa and Sueña Conmigo. The slower tempo songs are El Momento, Amor Tal Vez Perdido and Soy Bueno Soy Malo (La Rosa), as well as the son Ya Lo Sé.
Somos Calle Real sets the mood for the CD. It is a serious dance song in which the band introduces themselves to what they know is a skeptical audience that doesn't know what to expect from Swedish Timba. Ahí con fuerza vamos, ahí con fuerza sí Seguimos por la calle, real es lo que somos el mundo no sabe na'
Esperanza and Rompiendo Murallas start with some heavy synth and bass, respectively, followed by great tumbaos. Esperanza slows down a bit during the cuerpo, while Rompiendo Murallas is in your face from start to finish: Mira como todo está, de pies para arriba Nada no funciona más, parece una mentira Las cosas se desvanecen y tienen un mal sonido La mierda llueve mil veces y todo es olvido
El Beso (also called La Rana by fans), is another favorite among dancers. And the lyrics are amusing, but the guys refuse to answer whether the song is based on any real-life situation. The idea can be summed up in these lines: En los cuentos la princesa besa una rana La cual se transforma en un príncipe por la mañana Pero en la realidad el príncipe besa una doncella Y ella se vuelve en una rana, se parece a ti mi bella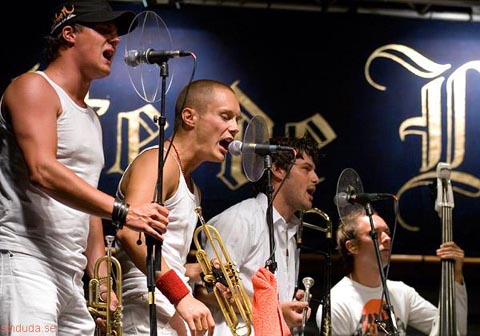 I find Dime Que Me Quieres to be the most pop of all the songs. It is only 3:52 minutes and makes use of some electronic effects on the tres and the coros. Normally when timberos talk about songs being timba/pop it is a negative thing, but in this case I like it. It's good for dancing and I think may have a greater potential in "mixed" audiences. I find it to be kind of sexy. I enjoy it, but would have liked it to be a little longer.
Princesa is the first single and video from the CD, and has been popular with audiences in Europe as well as Miami. It is a song about ladies who make the choice of taking the easy way out of a tough situation by selling themselves to maintain their lifestyle. At about 3:00 minutes the tempo suddenly drops in a manner that brings Charanga Habanera's Lola Lola to mind, then it picks up again after 15 seconds. I recommend this song to DJs who are presenting the CD to a timba audience for the first time. They won't have a problem dancing to the tempo changes.
But my personal dance favorite is Sueña Conmigo: This song has it all: attitude, a good tempo for dancing, it's almost 8 minutes long and has a number of nice gear changes throughout the coros that make it great for despelote. In fact, the band encourages this with the coro: Sacúdete y mueve todo lo que tengas.
As with all good timba, the songs don't have to be fast to be good. The intensity comes from the tension created in the rhythms or from changes in tempo, not from speed itself. El Momento (yes, he's speaking Swedish at the beginning of the video) and La Rosa are two of my favorite songs despite being slower. I love the tumbao at the beginning of El Momento and the studio version of the song includes viola, violin and cello, which enriches the orchestration. In concert they generally don't include the strings, although occasionally Emilio Estrada joins them when they are playing in Stockholm. They also make use of strings on Somos Calle Real and La Rosa.
I really enjoy the lyrics to La Rosa and the song includes another unusual feature: a d'angelo choir, not exactly standard in Timba, but it works. It is another favorite among my friends. Mami no me critiques porque tú sabes que La rosa tiene sus espinas, igual que yo Y si soy bueno, tambien soy malo, Las ambas cosas las tengo yo
Amor Tal Vez Perdido is the hardest to dance to because it has a 1:30 ballad introduction. After that it picks up for dancing, but it probably won't work at clubs. It's better for home or for concerts. In contrast, Ya Lo Sé is a fairly up-tempo son that is quite pretty, with some nice harmonies from female vocalists Caroline Schröder and Lena Amalia. It is very good for dancing and may be another good choice for DJs working with "mixed" audiences.
In conclusion, I feel confident recommending this CD to timberos. I have to admit that I am as guilty as the next person of having a skeptical attitude to any Timba group that is not Cuban. As surprising as it may seem, the guys of Calle Real have really understood what Timba is about, and they have mixed the Timba of Cuba with their own influences from Europe to create a very successful debut CD that is both Timba, yet different but always meant for dancing.