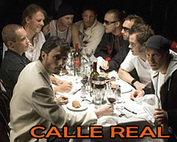 Calle Real
| Home Base | Established | Albums | Charts | PTracks |
| --- | --- | --- | --- | --- |
| Stockholm, Sweden | 1999 | 2 | 0 | 0 |
This artist has albums available.

Click on each album title for an expanded view.
| Album Name | Preview | Style | Price | |
| --- | --- | --- | --- | --- |
| Me Lo Gane | Your browser does not support the audio element | Timba | $11.99 | |
| Con Fuerza | Your browser does not support the audio element | Timba | $10.99 | |

Modern timba group based in Stockholm, Sweden.
Calle Real is a 10-piece band that plays modern timba with distinctive pop influences. It's well arranged and tightly played music for the club scene. There's a definite heavy groove -it can be rock, funk, R&B or mostly pop, which is not unexpected since the band grew up with MTV.
The band was founded towards the end of 1999 by Patricio Sobrado, initially as a trio, playing old Cuban songs in a Buena Vista Social Club style. Since then, new musicians have been added while others have moved on. The style has changed to timba.
In 2003, the band received an invitation to play at a Festival Benny Moré in Cuba. It is a festival that assembles the best national salsa and timba bands and also invites some international acts. The whole adventure was filmed, which resulted in a music documentary Spelplats Cuba (A Gig in Cuba), later shown at the Gothenburg Film Festival in 2005 and bought by Swedish Television.
Over the years, Calle Real has also played Swedish festivals like Folkmusikfestivalen in Umeå, Urkul, Linköping Jazz & Blues, Stockholm Jazz Festival and Göteborgskalaset. They have also performed on several stages around Sweden.
While no one in the band is actually Cuban, several of them have spent long periods in Cuba studying music. There are a variety of ethnic origins within the band, including Patricio Sobrado who has his origins in Chile, and Rickard Valdés, son of the pianist Bebo Valdés, who is partly Cuban. The trumpet player, Jacek Onuskiewicz, and the trombone player, Cezary Tomaszewski, originate in Poland, but all of them grew up in Sweden.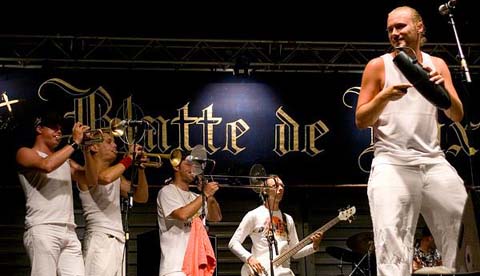 Timba is an afro-cuban music style which developed from salsa, with a hard beat and a heavy bass. It was initially created during the early 90's by leading Cuban bands, foremost NG La Banda. It was further developed by groups like Charanga Habanera, Isaac Delgado, Paulito FG and Los Van Van.
The fact this music is so well performed by Calle Real is not so strange, as interest for Spanish and Latin American culture and music has grown during the last few years. However, the fact that it would lead to young Swedish musicians adopting a music style and taking it further is not so common. One can also clearly hear that the band members have grown up with a lot of different musical influences, this without losing the Cuban style though.
In 2004 the band gets an offer to record from Swedish hip-hop label Redline Records. They start to record five songs that summer, which leads to the debut album "Calle Real Con Fuerza", which was released in Sweden on 1st March 2006.



| | |
| --- | --- |
| Patricio Sobrado - tres, coros & band leader | Thomas Sebastian Eby – vocals |
| Petter Linde – trumpet | Jacek Onuskiewicz – trumpet |
| Karl Frid - güiro, coros & trombone | Gunnar Thullberg - keyboard & guitar |
| Cezary Tomaszewski – trombone | Andreas Unge – bass |
| Rickard Valdés - congas & timbales | Harry Wallin - drums & timbales |
Patricio Sobrado is the band leader, and one of two in the band that doesn't have a formal music education or come from a family of musicians. He is self taught on guitar and tres, a string instrument from Cuba with three pairs of strings very often used in traditional Cuban music. He got hooked on Cuban music and tres after several trips to Cuba where he had private lessons. With a masters degree as a civil engineer from Kungliga Tekniska Högskolan (The Royal College of Engineering) in Stockholm and several years as a project leader he was one of the founders of the band in 1999. Patricio is also freelancing in smaller settings in Cuban traditional music and has played in several folk music groups. The music probably comes from both his mother, who used to teach in Chilean folklore dance, and from his father, who's relatives are a part of the well known Chilean band, Los Jaivas.
Thomas Sebastian Eby has several years of music studies in percussion behind him, including CNSEA in Havana, Cuba. With a huge feeling for arrangements and club music, he has had a strong influence on the later musical development within the band. Even if his main instrument is percussion, he is as well regarded for backing vocals and has toured with several of the biggest artists in Sweden. After four years on congas and doing backing vocals, Thomas took over the role as the lead singer in the band in 2004.
Karl "Kalle" Frid is a very talented trombonist and has attended schools such as The Royal College of Music in London and CNSEA in Havana, Cuba. Kalle also has a degree from Kungliga Musikhögskolan (The Royal Music College in Sweden) and joined the band in 2003. In the beginning, he played with Petter to create a brass section, later go over to backing vocals and playing güiro. Today Kalle is a very sought after musician who has played with several well known Swedish artists.
Petter Linde has a degree from Kungliga Musikhögskolan (The Royal Music College in Sweden) in Stockholm in jazz and Afro-American music. Petter joined the band in 2001 and is today responsible for the brass section. Today Petter can earn his living from music and has both arranged music for, as well as played with many Swedish artists.
Jacek Onuskiewicz was born in Poland in the 1980's and started playing the trumpet when he was 13 years old. He's currently studying at Kungliga Musikhögskolan (The Royal Music College in Sweden) and before that he went to the Music College in Örebro, Sweden. Jacek became a steady member of the band in 2005 and has since made himself known through his ability to play the highest notes. Aside from his studies he works as a freelance musician and has toured with various Swedish artists and bands.
Gunnar Thullberg is a musician having both guitar and piano as his main instruments. He has also studied music in Havana, Cuba. His musicality is astounding, which makes him one of the most sought after salsa pianists in Scandinavia. His brilliant timing and groove drives the rhythm section for the band. Gunnar joined Calle Real in 2002 as a guitarist but changed over to piano when the band's whole direction was modernised. On the side of university studies in economy Gunnar is freelancing as a musician, and has played with bands like Calixto Oviedo y La Recompensa, Gilito y su clave, La Tremenda, Horace Korn and Hans Solo Super Orchestra.
Cezary Tomaszewski is an experienced trombone player who has studied at several music schools. His distinctive trombone sound is something sought after in terms of obtaining a tough sound which suits the music. Cezary became a member of the band in 2005. Aside from his studies, Cezary has become a sought after musician and has played with among others, Florence Valentin and La Tremenda.
Andreas Unge is probably most known today as one of Europe's most in-demand freelance musicians, with bass as his main instrument. He is also a well respected producer and is behind several commercial hits for European artists. Andreas has a degree from Musikkonservatoriet (Royal Music College) in Copenhagen, Denmark. He has played with artists like Ricky Martin, Christian Waltz and Simone Moreno as well as several Swedish singers, for example Robyn, Jennifer Brown, Jessica Folcker and Stephen Simmonds. He has also been the orchestra leader for several big Swedish artists. He has played on albums for Westlife, the Swedish folk music singer Sofia Karlsson and Henok (Ethiopian pop). Andreas joined Calle Real in 2003 and has by virtue of his precision and reliability, become a pillar of the band's rhythm section. He is today one of the few contented owners of an Azola Baby bass, which is typical for timba.
Rickard Valdés is the second one in the band that doesn't have a formal musical education. Born and bred into a legendary music family, his father is the five times Grammy winner, Bebo Valdés. Like his brother, the Latin Jazz piano player and Grammy winner, Chucho Valdés (Irakere) Rickard has musical heritage in his blood. Rickard joined the band in 2000 and started playing the bongos, followed by timbales and later the congas. His main instrument is timbales. With his special feeling for Cuban music he is one of the pillars of the rhythm section. He has played in his father's band for about eight years and has participated on the Grammy winning albums, "Lagrimas Negras" and "Bebo de Cuba". Today he is freelancing internationally as a percussionist. He has played with bands and artists like, Bebo Valdés, Chucho Valdés, Paquito D´Rivera, Giovanni Hidalgo, Patato Valdés, Juan Pablo Torrés, Francisco Aguabella, Diego Urcola, Michael Mossman, Mario Rivera, Luis Bonilla, Milton Cardona, Joe Gonzales, Pablo Calogero, Steve Berrios, John Benitez, Andy González, Jerry González, Dafnis Prieto, Raul Agraz, Bobby Porcelli, Douglas Purviance, Papo Vázquez, Ray Vega and Alicia Keys.
Harry Wallin has several years of music studies behind him from various schools in Sweden. His main instrument is the drums and he's mastered most of the genres from pop and rock to R&B, soul, jazz, afro pop and nowadays timba. As the son of the late jazz pianist Per Henrik Wallin, Harry grew up in a musical environment and has inherited a gift for music. Harry joined the band in 2002 and started with the drums. As the band has developed, Harry has gone over to play both the drums and timbales as one might do in Cuba. Today Harry is a well regarded freelance musician in Sweden, where has played with several well respected artists and bands covering a range of genres.

Biography and band informaion provided by Calle Real and Michelle White (Europe correspondent from our subsidiary www.Timba.com).