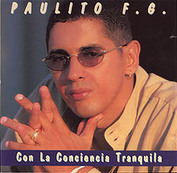 Con La Conciencia Tranquila
| Style | Released | Album Tracks | Charts |
| --- | --- | --- | --- |
| Timba | 1997 | 11 | 0 |
$10.99

© 1997 Pyrale Music. All rights reserved.
Audio album download includes album tracks, liner notes, lyric sheets and cover art.
All audio tracks in MP3-VBR format. About LPM album downloads.

| # | Name | Play | Time | Info |
| --- | --- | --- | --- | --- |
| 01 | Con La Conciencia Tranquila | Your browser does not support the audio element | 4:36 | por la mas que la vida te fuerce, alejate del daño |
| 02 | Y Ahora Que | Your browser does not support the audio element | 5:32 | brilliant piano & bass movements in coro-pregon |
| 03 | Entre Dos Amigos | Your browser does not support the audio element | 4:37 | una bola que pica entre dos es de quien la coja |
| 04 | Mi Tentación | Your browser does not support the audio element | 4:15 | ejemplo de lo 'funky' que puede ser la salsa |
| 05 | Llamada Anónima | Your browser does not support the audio element | 5:21 | como empieza el tema! - agresividad con clase |
| 06 | Para Volver Conmigo | Your browser does not support the audio element | 5:49 | tienes que promocionar más tu amor |
| 07 | Desacuerdo | Your browser does not support the audio element | 3:56 | una balada romántica al estilo único de Paulito |
| 08 | No Me Puedo Enamorar | Your browser does not support the audio element | 5:27 | la llama en el corazón no me ha llegado |
| 09 | Y San Toma Que | Your browser does not support the audio element | 5:46 | sabrosos bloques antes y después de la bomba |
| 10 | No Te Lo Creas | Your browser does not support the audio element | 5:36 | todo lo que veas, no te luches todo lo que escuches |
| 11 | De La Habana | Your browser does not support the audio element | 5:24 | especulación de la Habana!! himno callejero de Cuba |

Paulito's masterpiece. This should be in the first batch for anyone starting a collection of Timba records.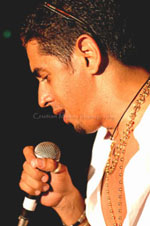 This album begs repeated listening. For the musician, every note of every instrument deserves careful study, and for listeners and dancers it's pure joy. The songs are immediately appealing, but have so many layers of musical detail that they never wear thin, even after hundreds of listenings. Noroña's piano tumbaos are from another world; Joel Domínguez' bass-playing is simultaneously more aggressive and more melodic than his predecessors; Tomás Cruz creates melodic conga tumbaos on a tune by tune basis and the three of them lock into a fierce groove with one of the world's best drummers, Joel Paez. The horn-playing and Ceruto's brilliant charts are endlessly creative. --Kevin Moore of Timba.com


FREE DOWNLOAD

Rare live performance of Paulito's arrangement of Nek's international hit "Laura No Está".
DESCARGA GRÁTIS
Musicos que participaron en 'Con La Conciencia Tranquila':
Paulito F.G.
(cantante, director)
Juan M. Ceruto
(arreglos, sax, guiro)
Sergio L. Noroña
(piano)
Joel Paez
(bateria y timbal)
Joel Dominguez
(bajo)
Tomás Cruz
(congas)
Luis Chacón
(percusión)
Julio Montalvo
(trombón)
Igor Rivas Comas
(trumpeta)
Josvel Bernal Pino
(teclados)
Alexander Abreu
(trumpeta)
Germán Velazco
(sax soprano)
Rogelio Napoles
(guitarra)
---
Special Excerpt from
Reelin' in the Gears
Timba's Greatest Rhythm Section: Paulito FG y su Élite (1998)
by Kevin Moore ©2004
Introduction - Perhaps the most striking difference between Timba and its predecessors is the way the rhythm section keeps changing gears. Some complain that this makes it harder to dance, but those who learn to change their moves along with the band quickly become addicted and find it impossible to return to the monotony of "ballroom" salsa dancing. It's the same story with musicians.
Each of the major Timba bands has a drastically different sound -- it would be impossible to mistake El Médico for Los Van Van, La Charanga for El Trabuco or Issac for Paulito. There are obvious differences in the harmonies, the lyrics, and the instrumentation, but the differences also have a lot to do with the rhythmic gear changes. All Timba bands use gear changes, but the gears, and the way they're used, differ almost completely from band to band. The only way to get a grip on this complex concept is to take each band separately, and then go back and look for similarities. We may as well start with what many consider to be the greatest Timba rhythm section -- the 1998 incarnation of Paulito FG y su Élite: This is the group which recorded the classic album "Con la conciencia tranquila" in mid-1997, but it wasn't until the live performances of 1998 that their gear concept evolved into the most flexible, sophisticated, and electrifying in Timba history.
Gears: What, Where, and How
What: A "gear change" occurs when all 3 percussionists & the bassist change their patterns in tandem.
When: Every salsa and timba arrangement starts with a song, or cuerpo. This usually takes up about 20-30% of a studio track, but in live performance, it can be as little as 10%. When the cuerpo ends, the "montuno" section begins, consisting of an open-ended series of coros, horn mambos, breakdowns, and solos. The gear changes occur during the montuno section, sometimes as often as every 4 claves (or, in dancer-speak, every 4 basic steps).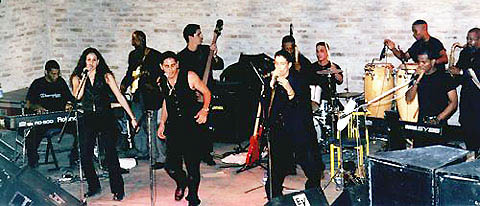 The main gears of the 1998 Paulito band were:
marcha
marcha de mambo
pedal
bomba
songo con efectos
breakdown
audience sing-along

How: Some gear changes are planned in advance and always occur at the same point in the song. Others can be called spontaneously by hand signals. Many of the gear changes that are found in PFG's studio recordings will be repeated in the same way in concert, but since most studio recordings run 5 to 6 minutes and most live versions run from 8 to 20 minutes, there are also as many as 20 additional gear changes after the material from the studio version has finished. In the Paulito band, the structure was extremely loose and flexible.

Paulito had a hand signal for each gear which he would flash during the last few beats of a given section to cue the musicians to change to the next gear. Paulito is a very controversial character, and many, myself included, are very disappointed with the direction he's taken his career in the last 5 years, but one thing is undeniable -- "El Sofocador" is by far the most spontaneous and quick-witted performer in the history of Timba. He's able to react to the situation and change his coros and guías, or even invent new ones, with astounding creativity and vocal accuracy, while simultaneously driving his world-class rhythm section like a Ferrari Testarosa on the open road.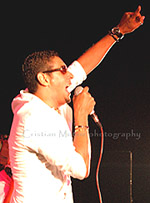 Few realize it, but when Paulito spins around with his hands close to the ground, often crying out "¡¡recógete!! it's not just for show. He's also giving the rhythm section the cue for the "Songo con Efectos" gear. When he thrusts his fist to the side and lets his fingers fly outward like a star, the rhythm section will go to "Pedal". A single finger waving, a lo cubano, parallel to the ground is the call for "Bomba". Two fingers held above his head is not PFG's impression of Richard Nixon -- it's the signal for the band to switch to Breakdown gear so that he can talk to the crowd and introduce the subject of the next coro. When he shakes his open hand in the air as if to hail a Cuban taxi, it means to return to the normal Marcha, or, if he shakes it in the direction of the horns, it's the cue for a mambo, which has its own special variation of the marcha gear.
-- click here to read the whole article.