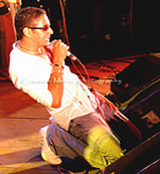 Paulito F.G.
| Home Base | Established | Albums | Charts |
| --- | --- | --- | --- |
| Havana, Cuba | 1990 | 3 | 0 |
This artist has albums available.

Click on each album title for an expanded view.
| Album Name | Preview | Style | Price | |
| --- | --- | --- | --- | --- |
| Un Poquito de To | Your browser does not support the audio element | Timba | $10.99 | |
| Con La Conciencia Tranquila | Your browser does not support the audio element | Timba | $10.99 | |
| Paulito | Your browser does not support the audio element | Timba | $9.99 | |

One of the central figures of Timba (cuban salsa). In 1997 he assembled the truly amazing collection of musicians who collaborated to create one of Timba's crown jewels, Paulito's masterpiece:
"Con la Conciencia Tranquila"
.
Paulo Alfonso Fernandez Gallo born on January 11,1962 in Buena Vista, one of the most popular neighborhoods in Havana.
As a young child he was inspired by such legendary musical figures as Benny Moré, Juan Formell and Pacho Alonso. However, his undeniable talent for music was inherited his from his mother Caridad Gallo, a pianist and poet. She use to asked him to sing along with her while she played the piano, teaching him the vocal lines, harmony, melody and bass.
His big career break came when legendary musician Adalberto Álvarez discovered and recruited him after recognizing his passion for singing. In 1990 he joined Opus 13 and in 1991 assumed leadership and turned it into Paulito F.G. y su Elite. Since then he has consistantly been one of Cuba's hottest performers captivating audiences of all ages, races and cultural backgrounds.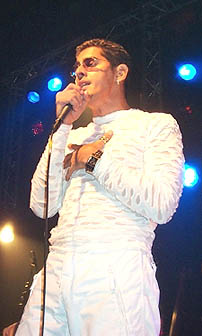 Paulito FG, aka Pablo FG, aka Paulo FG, aka Pablo Alfonso Fernández Gallo, is one of the central figures of Timba and one who will definitely receive the same type of in-depth treatment we've given NG La Banda and Charanga Habanera. Paulito's band, the Élite, has always been exceptional, but in 1997 he assembled the truly amazing collection of musicians who collaborated to create one of Timba's crown jewels, Paulito's masterpiece, "Con la Conciencia Tranquila". This album is definitely the starting point for those getting into Paulito's music for the first time. It's his best, and also one of the best, if not the best of the entire Timba genre.
In the early years, Paulito had tours of duty with Dan Den and Adalberto Álvarez, but it was in Opus 13 that he met up with Juan Ceruto (saxophonist - pictured below), who would be his musical director and arrange almost all of his compositions throughout the 90's. Ceruto, a saxophonist gifted with absolute pitch and a Mozartean ability to conceive entire arrangement in his head without the help of a piano or computer, is also a perfectionist in terms of intonation and phrasing in the horn section. Ceruto, now widely acknowledged for writing and recording exquisite horn arrangements on any number of recent Cuban productions, put together what might be the best horn section in the history of Timba, featuring among others, the brilliant Alexander Abreu on trumpet. Paulito and Ceruto had a special and enduring creative chemistry that resulted in four and a half excellent albums in which almost every song was written by Paulito and arranged by Ceruto. The first was "Tú No Me Calculas". They later latched onto one of Timba's finest trap drummers, Joel Paez, and recorded "Sofocándote". Next they added Tomás Cruz, an extremely creative young conguero who now plays with Manolín in Miami, and Yosvel Bernal, a multi-talented keyboardist/singer/trombonist, and the nephew of Los Van Van's Edmundo Pina. This group recorded the album prior to "Con la Conciencia" which was released twice, with the same eleven tracks in different orders. The Nueva Fania version is simply called "Paulito" and shows PFG in a white suit against a white background. This same album was also released with a different name: "El Bueno Soy Yo".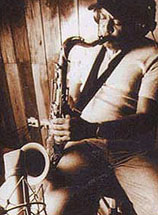 Regardless, there's no question whatsoever that all of the pieces fell together when synth player Sergio Noroña took over on piano and young Joel Domínguez was added on bass. Noroña, (who also has an uncle in Los Van Van!) ranks among the top few figures in the history of Timba piano playing, and his ultra-creative tumbaos blended magically with Ceruto's horn arrangments, as did the bass tumbaos of Domínguez who himself would go on to become the top-notch arranger responible for the Grammy-nominated arrangement of Issac Delgado's "La Fórmula". Joel is currently in Spain and timba.com is close to completing an interview with him. More fiery creativity came from Paez and Tomás Cruz in form of potent bloques and improvised percussion fills. Not to be overlooked is the sparse and creative campana bell style of bongocero Luis Chacón and the pristine coros of Noroña, Bernal and Paulito's talented sister Ana, and the tasteful guitar-playing of Rogelio Nápoles, brother of Manolín's bassist Victoriano Nápoles.
The creative chemistry of this highly-disciplined and rigorously-rehearsed group was something to behold. "Con la Conciencia Tranquila" is the perfect amalgamation of Paulito's songs, Ceruto's arrangements, and the ultra-creative rhythm section hooks of Noroña, the two Joeles, Yosvel Bernal and wonderfully melodic conguero, Tomás Cruz. And as a performing unit, the Élite of 1997 could go head to head with the monster Issac Delgado group that recorded "Rarities". If one were blessed with a Timba Time Machine, its default setting would have to be 1997. On any given night, Havana's blazing nightclub scene might feature the Charanga Habanera of "Tremendo Delirio", the Los Van Van of "Esto Te Pone La Cabeza Mala", the Manolín band of "De Buena Fe", the Bamboleo of "Yo No Me Parezco a Nadie", the Klimax of "Juego de Manos" and of course the twin juggernauts of Issac and Paulito. Incredibly, 1997 witnessed what was arguably the greatest incarnation of each of these seven groups.
Immediately after "Con la Conciencia Tranquila", the band recorded radio demos of "La Última Bala" (which was later re-recorded and retitled as "Una Vez Más" on the 2000 release), and possibly Paulito's greatest arrangement, the sublime "Laura No Está" (visit the album page for a free download), which was inexplicably never released on a commercially available album. Then began a long series of personnel changes.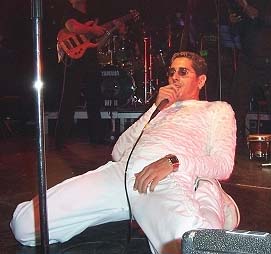 Paulito himself, while his outward image is that of a matinee idol surrounded by legions of adoring young female fans, is actually an extremely intelligent musician, with a highly developed ability to improvise both notes and words. He plays with the melodies and phrasing of his songs much more than most other Timba singers and has shown an extraordinary talent for spontaneously inventing guías in the heat of performance. He also has excellent pitch and phrasing and bootleg live recordings show him to be among the most consistently excellent Timba vocalists on the concert stage, where a singer must ply his or her craft without the benefit of modern recording techniques to make each note perfect.
So Paulito's glamorous and glitzy diva image belies the fact that he's also one of the best and most intelligent musicians in Timba. Somewhat tragically, however, his intelligence has occasionally failed him badly in terms of correctly assessing the value of keeping his band together. In defense of Mr. FG's legendary penchant for underpaying his musicians, the dynamics of the Havana scene are such that: 1) bandleaders tend to make many times more money that the sum of his sidemen, 2) musicians are known to jump to other bands with frequency, 3) the huge amount of young talent allows the bandleaders to quickly regroup when faced with defections.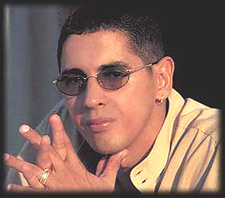 But in 1997, both Issac and Paulito had musicians who could not be replaced so easily, if at all. Melón, Ceruto, Alain Pérez, the Joeles (Domínguez and Paez) -- these musicians were much more than sidemen. They were critically important creative figures without whose contributions, Timba as we know it would not exist. And they played together with a rhythmic fire that can't be described in words. It simply has to be heard. And yet, both Issac and Paulito were guilty of letting these historically great bands fall apart. The difference was that while Issac's band went to Spain, Paulito's went to Issac!
In 2002, Paulito still has a fantastic band, but so far we haven't heard new material from him of the calibre of "Con la Conciencia" and the best of "Una Vez Más". Fortunately, recent live performances show Paulito's singing and stage manner to be stronger than ever and he still has quite an excellent and well-rehearsed band. The next album should be extremely interesting indeed. One rumor has Dariel Tellez, of Charanga Forever, taking over on piano for the Élite. Another has Paulito collaborating with Sergio George, who by the way is also rumored to be collaborating with Bamboleo, but it's been quite a while since those reports surfaced and it's seeming less and less likely that anything will come of them. There's a lot of uncertainty revolving around the fates of several major Timba bands in 2002 and Paulito's is one of them.
--bio by
Kevin Moore
of www.
TIMBA
.com