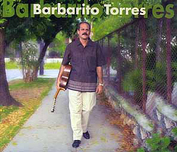 Barbarito Torres
| Style | Released | Album Tracks | Charts |
| --- | --- | --- | --- |
| Son | 2003 | 14 | 0 |
$13.99

© 2003 Pimienta Records Corp. All rights reserved.
Audio album download includes album tracks, liner notes, lyric sheets and cover art.
All audio tracks in MP3-VBR format. About LPM album downloads.

| # | Name | Play | Time | Info |
| --- | --- | --- | --- | --- |
| 01 | El Ruiseñor del Guateque | Your browser does not support the audio element | 5:28 | son, canta Conchita, Victor y Nilso |
| 02 | Bailando Bonito | Your browser does not support the audio element | 4:04 | changui, canta Nilso Arias |
| 03 | Yo No Me Voy del Cañaveral | Your browser does not support the audio element | 4:10 | guajira, canta Victor Villa y Nilso Arias |
| 04 | Amarrala | Your browser does not support the audio element | 3:14 | nengon, canta Conchita Torres |
| 05 | A Buscar Mi Amor | Your browser does not support the audio element | 2:04 | cha cha cha, canta Pedrito Calvo |
| 06 | Sonero de Monte Adentro | Your browser does not support the audio element | 4:34 | son, canta Jesus Bello |
| 07 | El Quichí Quichá | Your browser does not support the audio element | 3:04 | guaracha, canta Conchita Torres |
| 08 | Te Espero en el Jardín | Your browser does not support the audio element | 2:20 | bolero, canta Victor Villa |
| 09 | Mi Son | Your browser does not support the audio element | 4:20 | canta Sonia Margarita |
| 10 | El Bacanero | Your browser does not support the audio element | 3:07 | son, canta Victor Villa |
| 11 | Perla Marina | Your browser does not support the audio element | 3:17 | canta Omara Portuondo |
| 12 | Francisco Guayabal | Your browser does not support the audio element | 3:21 | son, canta Pio Leyva |
| 13 | La Comparsa | Your browser does not support the audio element | 6:12 | featuring Chucho Valdes on piano |
| 14 | Cuarto de Tula | Your browser does not support the audio element | 8:45 | son, canta Conchita Torres and Nilso Arias |

Simply titled Barbarito Torres, the new album includes songs from all genres of Cuban music, striking a precious balance between joyful traditionalism and adventurous innovation.
As any fan of the album knows, Barbarito Torres was part of the Buena Vista Social Club crew. Unlike the others, however, he's kept a relatively low profile -- this is only his second solo disc, and it appears on a small label, without a great deal of fanfare. On the basis of this, he deserves a much larger place in the spotlight. A tremendous player of the laud, an instrument like a lute or mandolin, he produces stunning solos on every song (just listen to his highly sophisticated work on "Sonero De Monte Adentro," for example, where he slides in and out of the band, adding a whole other dimension to the piece, and taking it all a notch higher), while giving plenty of room to others in the most unselfish manner. A virtual tour through Cuban styles -- with plenty of emphasis on son -- this gets to the music's guajira, or country, side, while still offering plenty of depth. His soft take on "Perla Marina" takes the song in a very different direction than the Buena Vista Social Club version; it is effortlessly lyrical, and a showcase for Torres' glistening talent, while "La Compasra" teams him with pianist Chucho Valdés for a duet that manages to be rooted in tradition and is effortlessly daring at the same time. It's a marvelous piece of work, the kind that makes you hold your breath to hear if they can really pull it off -- and they do, in fine style. While the duet is different from the rest of the disc, it never feels out of place -- and it's a testament to the virtuosity of both men.
Among the treats that await Barbarito's fans are a soaring version of the classic "Perla Marina"; a strikingly different new take on the Buena Vista anthem "El Cuarto de Tula" that incorporates fiery flamenco stylings; and a pared-down rendition of Ernesto Lecuona's "La Comparsa" performed as a duet by Barbarito and pianist Chucho Valdés, leader of seminal Afro-jazz group Irakere.
"I wanted to stress the full potential of the lute as a solo instrument," says Barbarito in his typically fast-paced and always flavorful Cuban accent. "With this new album, I've demonstrated that the lute can be incorporated successfully into each one of the many different styles that make up Cuban music."
A Conversation with Barbarito Torres
This past October, Barbarito Torres and Pío Leyva accompanied Los Van Van in a performance at The Birchmere in Alexandria, Virginia. www.lafi.org found them backstage, accompanied by Barbarito's group, for this multiple interview. Wise-cracking Barbarito and his sister Sonia, clearly having a good time, were warm and enthusiastic, answering our questions in rapid-fire Cuban Spanish. Pío, their "favorite child," spoke only slightly slower.
Barbarito: I'll start with the story of my playing the lute. Sonia can tell you the story of the group, as she's the one who put it together.
I started playing lute when I was 10, playing country music. There was a country atmosphere at our home in Matanzas. My father was a guajiro de ceiba mocha, a poet and lute player. He was really bad, I'm sorry to say, but he played the lute. A week after I started playing I played better than him. He never took it up again. He dedicated himself to changing the strings for me, and to making my picks. So I started playing with my sister, who is a little older. From the age of 7 she did authentic traditional music, décimas [verses in ten-line stanzas], in Matanzas, on Radio 26. I grew up with that: punto, controversias, tonadas, guajiras. But there was also a hidden sonero in me. The lute is for country music. I kind of took it out of that cubbyhole. I started to play some son with the lute, in trios and quartets, and to play more contemporary music. I had the chance to meet musicians who were at a higher level, who showed me modern harmonies; for example, José Luis Cortéz, called El Tosco in Cuba, who is the director of a famous band in Cuba, NG La Banda. I was with him a long time in the Army band, and he taught me music that was more modern. I do the traditional son, updated, with a more modern harmony, younger—like all of us here, like Pío.
As to the lute, it's an Arabic instrument, which undergoes a metamorphosis when it is taken to Spain by the Moors; and again when it is taken to Cuba from the Canary Islands. We blame the Canary Islanders. That's what I play, the lute with a short neck, similar to the Puerto Rican cuatro, not in its tuning but in the similarity of the sound. The tuning is by fourths: D, A, E, B, F#, C#. Nothing like the cuatro, but the timbre is quite similar.
Sonia: The format of the group is basically country, which is strings: the lute—the lead, the 12-string lute, which is played only in Cuba—the tres, the guitar, the percussion, and bass. And to play sones that are more up-tempo, closer to an urban sound, we add a trumpet, like in a septet. Barbarito always wanted to do it with the lute as lead, and to play all of Cuban music with that kind of ensemble. It's the only group like it.
Barbarito: Let me make this clear: un grupo guajiro, con guajiros.
Sonia: Our players are all stars at what they do. Barbarito is more well-known professionally, on the lute, but the others are also stars with their instruments and their voices: Villa, an excellent bass player and singer, from Pinar del Río…
Barbarito: The land of tobacco.
Sonia: Niso, a montunero with a great voice from Oriente, with a slight Mexican sound , from the very Eastern point. Tati, as young as he is, a great tres player—I tell everyone, watch out for him.
Barbarito: At the age of 27, he's second to none in Cuba on the tres.
Sonia: Pancho Amat, our greatest tres player, speaks very highly of his playing. And, they do choruses, duets, trios. Pedrito, from Pinar del Río, has a unique style, playing bongos at the same time as the tumba and the cowbell. He fills in as if there were several people playing.
Barbarito: He's an atypical bongo player. All bongo players are braggarts and liars, but he's a quiet kind of guy. He should have been a doctor. Nothing to do with percussion.
Clave: How was the group formed?
Sonia: Barbarito had been traveling a lot, working a long time with Celina González, the queen of country music, and directing the group. Later he decided to go on his own. Because he is among the all-stars in Cuba, he was called upon a lot for recordings and to play, but he always wanted to have his own group for his own music. I knew that.
Once he was traveling with his sister Conchita, in Spain. They were playing medieval music in a medieval fair, with the medieval lute, and also playing Cuban music with some young people from from the Higher Institute of Art of Cuba, and from Spain, doing experimental music. I had told him, when you come back, I'll have the group put together. I started looking around, which was easy for me, given my line of work, and found them playing at the Plaza de la Catedral, at El Patio restaurant, where there is a lot of live music. First I heard the two brothers, the two chinos, and I said, these two. And later I met Pedrito and Villa. I told them what I had in mind. Barbarito was well known, and they said, sure. And Buena Vista Social Club had just received the Grammy, which was very good for him.
Barbarito: Later on I stole a son from his father!
Sonia: The group didn't have a trumpet before, except occasionally on the record Havana Café, where we had a number of guests. One of them was Guajiro Mirabal, The Trumpet of Cuba. But he has a lot of commitments, a lot of international work. We wanted a trumpet player with a Cuban sound, with bomba, with heart, who could improvise. But we knew Robin from when he was a child, the son of a friend of Barbarito's, who had played with him in Celina's group.
Barbarito: And who is living in Los Angeles now.
Sonia: And, well, Robin was working with his father, and he decided suddenly to come with us.
Barbarito: Just like his father.
Sonia: He's an excellent musician and an excellent young man too. Also, Conchita over here is an specialist in country music. Her voice has the right timbre for it. She knows the songs to the letter, she is guarachera, sonera, she has clave and rhythm. Sometimes you find in country music someone who is great at punto and tonadas, but who can't do son because she lacks clave. But Conchita brings together all the qualities. She is known in Cuba as one of the great voices in campesino music.
Barbarito: The best thing that has happened to me, after the Grammy, is to have met these folks, who are excellent musicians, and as people are like my brothers and sisters, like my children—well, not my children, because I'm not that old—my brothers and sisters; and to have worked with the personalities who were on that record, like Guajiro Mirabal, Omara Portuondo, Frank Emilio [Flynn], Richard Egües, Ibrahim Ferrer, and one whom I've left for last so that he will say something, my idol from my youth, our favorite child, Don Pío Leyva. He can be a brat, but he's a good guy.
Barbarito Torres - album credits
Charlie Dos Santos
Producer, Engineer, Mixing, Photography
Scott Hull
Mastering
Lazaro Rivero
Double Bass
Javier Lopez
Graphic Design
Sonia Perez Cassola
Vocals, Liner Notes, Production Coordination, Vocals (Background)
Isabel López
Make-Up, Hair Stylist
Norberto Shand
Arranger
Barbarito Torres
Guitar (Acoustic), Arranger, Producer, Vocals (Background), Laud
Onelio Arias
Tres
Fadil Berisha
Photography
Rafael Lizarraga
Assistant Photographer
Nilso Arias
Guitar, Vocals, Vocals (Background)
Oliva Pedro Vargas
Maracas, Timbales, Tumbadora, Tumba
Conchita Torres
Vocals, Vocals (Background)
Victor Villa
Vocals, Vocals (Background), Double Bass
Orestes Aguila
Engineer
Jesus Bello
Arranger, Vocals
Jorge Reyes
Double Bass
Pedrito Calvo
Vocals
Jose Luis Quintana Fuerte
Timbales
Honorio DeLeon
Assistant Photographer
Ana Nery Fragoso
Make-Up, Hair Stylist
Evelio Gay
Mixing Assistant
María Zenoz
Art Direction, Project Coordinator
Tommy González Zenoz
Project Coordinator
Zahily García Pérez
Vocals (Background)
Wilfredo Pio Leyva Pascual
Vocals
Luis Mirabal
Trumpet
Luis Mayo
Photography
Robin Félix Martínez
Trumpet, Vocals (Background), Claves, Marimbula
Sonia Margarita
Vocals
Omara Portuondo
Vocals
Chucho Valdés
Piano