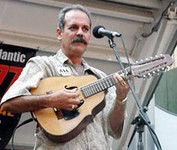 Barbarito Torres
| Home Base | Established | Albums | Charts |
| --- | --- | --- | --- |
| Havana, Cuba | 1976 | 2 | 0 |
This artist has albums available.

Click on each album title for an expanded view.
| Album Name | Preview | Style | Price | |
| --- | --- | --- | --- | --- |
| Barbarito Torres | Your browser does not support the audio element | Son | $13.99 | |
| Havana Cafe | Your browser does not support the audio element | Son | $13.99 | |

Celebrated virtuoso laud player and member of the Buena Vista Social Club.

Barbarito Torres has remained true to the musical folklore of his native Cuba-- the genre known as música guajira, or the blues of the Cuban countryside. Barbarito expresses a modern, sophisticated, but authentically traditional style, more likely to be found in a rural hamlet deep in his beloved countryside than in urban Havana, where he resides. Now, a few years after his sumptuous Havana Café album became one of the most successful and critically acclaimed Cuban releases of the last decade, Barbarito returns with a new recording that expands on his original vision while emphasizing the sheer beauty of the lute. Born Bárbaro Alberto Torres Delgado in Matanzas, Cuba, Barbarito was already playing the lute proficiently at age 10. In 1970, he started his professional career with Serenata Yumurina, a group led by Higinio Mullens.

Barbarito entered the military service in 1973, where he joined the marching band and the army's jazz orchestra. After his discharge in late 1976, he traveled all over Cuba performing with Siembra Cultural later renamed Grupo Yarabí until he decided to settle in Havana.

By then, Barbarito had become well known as one of the island's best lute players, and he worked as a session musician for radio, film and television. He became a permanent member of the Orquesta Cubana de Cuerdas and performed with some of Cuba's bigger names, such as pioneering son group Sierra Maestra and rootsy chanteuse Albita.

Barbarito's biggest recognition before forming his own band came when he was asked to join the queen of música guajira --the one and only Celina González-- and her Grupo Campo Alegre as their musical director.
At the same time, he was a featured player with Grupo Manguare, and toured extensively with both outfits in Europe and Latin America. In 1992, he founded Piquete Cubano, but continued to accompany the great Celina until 1995. In 1996, guitarist Ry Cooder traveled to Havana and assembled a dream team of local musicians for the recording of an album that would single-handedly change the history of Cuban music: Buena Vista Social Club. Barbarito quickly became one of the Club's most respected instrumentalists. Later he released Havana Café in 1999, and spent the following three years embarked on a world tour, joined by a dream band that included his sister Conchita and his wife Sonia on vocals. With the release of the new album and an upcoming tour that will find him taking his infectious music all over the globe again, Barbarito shows no signs of slowing down. "From now on," he emphasizes, "the challenge is to continue on the same musical path, while at the same time finding new ways to update tradition." Moreover, Barbarito will never allow his newly found success to go to his head. "I will always be Barbarito Torres," he laughs. "A man from the countryside -- more Cuban than the island's own palm trees."