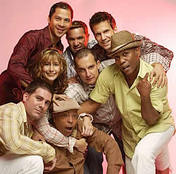 Havana NRG!
| Home Base | Established | Albums | Charts |
| --- | --- | --- | --- |
| Dallas (TX), United States | 2002 | 2 | 0 |
This artist has albums available.

Click on each album title for an expanded view.
| Album Name | Preview | Style | Price | |
| --- | --- | --- | --- | --- |
| Receta Perfecta | Your browser does not support the audio element | Timba | $10.99 | |
| Camino al Cielo | Your browser does not support the audio element | Tropical | $9.99 | |

Versatile group led by cubana Mariela Suarez, this Texas-based group delivers salsa, timba, bachata, son, and merengue from the heart to audiences world-wide.
The "N.R.G." of the kids from Havana has taken Dallas by storm. During their first 2-plus years, it was these craftsmen (and a woman) who set the city ablaze with blistering Salsa, tangy Merengue, soulful Cha-cha-chas and other Latin rhythms, riding the new wave of popularity of all things Cuban. Judging by what Havana NRG! — which, by the way, means New Rhythm Generation — has accomplished since July 2002, this orchestra is far from its previous incarnation. To date they have performed their tight show to audiences all over Texas, New York, Miami, Albuquerque, and San Francisco as well as internationally in Japan, Italy, Germany, Portugal and Israel.
"Cuban style music has suffered an almost intentional lack of promotion in the United States while it's well accepted all over the world. We've educated the salsa public in Dallas, Texas and they do accept and like contemporary styles like timba." As for audiences in places like Los Angeles, New York, Tokyo, Tel Aviv and beyond, "They do have open minds and really enjoy all different types of Afro-Cuban music," states Mariela Suarez, the group's musical director.


Biografies:
Mariela Suarez
(piano, violin, vocals)
Born in the city of Havana, Cuba, from the age of four she began to appear in TV, radio, documentaries and theater as part of a musical children's group, "Meñique". She studied at the music academy specializing in piano and violin. In 1987 she won first place in a national contest for violin students. Mariela graduated with a technical and professional title as instrumentalist and violin professor. In 1989 she was selected to participate the Young Musicians World Orchestra as a violinist becoming the first Cuban in history to be accepted for this kind of event.
In 1992 she was part of the prestigious orchestra of the Cabaret Tropicana in Havana, Cuba as keyboard player. Along with Ivan Martinez was musical director of the band "Cuestión Seria", which won the 1995 Novel Orchestra award in Cuba. In 1997 she was the producer, musical arranger and piano player of the CD, "Amante Solo Yo", by Dikan and Cuestión Seria. Of which the song "Hice por Ti", reached fourth place in the New York Hit Parade of the Latin Beat magazine. During three years she participated as violinist in the symphonic orchestra of Nuevo Leon and was professor of violin in the Instituto Superior de Musica in Monterey, Mexico. In 1999, Mariela moved to the United States and worked as musical director, arranger, piano and violin player in Dallas. She became a founding member of Havana NRG! in 2002.
Ivan Martinez (timbales, vocals)
Born in Pinar del Rio, Cuba March 16, 1967. From 1987 to 1992 Ivan studied university courses at Pedagogico de la Habana, obtaining a bachelors degree in Music Education. While studying he was trombone player and musical director of the band "Son Imagen", which received various award recognitions. Then in 1993, he started as a trombone player with the orchestra "Cuestión Seria", and later shared responsibilities as musical director with Mariela Suarez. This group won the 1995 Novel Orchestra award in Cuba. Two years later he participated as musical arranger and trombone player in the recording production "Amante Solo Yo", by Dikan and "Cuestión Seria".
He formed part of the group "Caribe Show" in Mexico sharing the stage with internationally known musicians such as Oscar d'Leon, La Coco Band and Wifrido Vargas. In 1999, Ivan moved to the United States, and has worked as timbal player and vocalist. He became a founding member of Havana NRG! in 2002.
Maiquel Romero
(trumpet, lead vox)
Born in Holguin, Cuba in December, 1973. The son of an actress and a school teacher, Maiquel began to show interest in the arts in his early life. At the age of 5 he was already singing the old "Trova Cubana," which gave the first glimpse of a bright future in the music field.
In 1984 he took on the trumpet and studied with Eduardo Pupo. After 8 years of study, he graduated from music school in 1992. He obtained his "real" education while playing with the Holguin Municipal Band, where he sat right next to his teacher. There he developed a tremendous skills in the popular music, which is presently his best form. In the early 1990s, Maiquel had the opportunity to work in Mexico as trumpeter. He spent five years performing in Monterrey with the cuban band Caribe Show. In 1999 he moved to Dallas, where he has worked as lead vocalist and trumpet player. He became a founding member of Havana NRG! in 2002.
Ramón Rodriguez
(bass, vocals)
Born August 31, 1962 in San Miguel del Padron, Havana, Cuba. At the age of eleven, Ramón began his lifelong passion for music while playing at different amateur bands. In 1978 he began studying percussion at the National School of Art Instructors, in Havana. He graduated as Instructor of Arts in 1982, and that very year he began his professional career doing presentations in Cabaret Caribe in Havana, as a bass player with the orchestra Cubanacán. They accompanied known stars, such as Elena Burke, Juana Bacallao, Moraima Secada, and Rolo Martinez.
In 1991 he started as bass player and later as musical director to the band of Mirtha Medina. They toured through some cities in Mexico, until 1993 when they came to the United States. In Miami, he participated in different recording productions such as: "Yo soy solo, solo, solo Amor", collaborated by Roberto Torres, "Chico Chévere", by Albita Rodriguez, and "Contra-danza", by Trio Habanero. Also, in 1994 as musical arranger of the demo recording production from which RMM record label signed the artist Guianko. In 2000, he moved to Dallas and continued working as bass player and percussion instructor. He became a founding member of Havana NRG! in 2002.
Jeff Fort (saxophone)
Born May 25, 1971 and grew up in the tropical setting of Fort Lauderdale, Florida. He started playing the saxophone at the age of 16. When he finished High School, he briefly attended music school before he was hired to play for Carnival Cruise Lines.
After working on the cruise ships for 3years, Jeff moved to Denton, TX to finish school. He graduated from the University of North Texas in 2001 specializing in jazz performance, and started working in the Latin music scene as saxophone and flute player. He became a founding member of Havana NRG! in 2002.
Mauricio Barroso (congas)
Born on June 2, 1980 in Havana, Cuba. He began his musical training at age 8 at Escuela Manuel Saumell and started his performance experience playing with small local bands. Mauricio emigrated to Costa Rica in 1993, where he played with larger local groups, further expanding his stage experience.
Three years later, he fulfilled his long-standing goal of moving to Miami to become a professional pecussionist. Once in the U.S. mainland, his career took off at age 16, and he was sucessively contracted by superstars like Engelbert Humperdink and Ruben Blades for special shows, and was a steady member of the legendary Cafe Nostalgia's orquestra. In Dallas he was employed with Latin Fire Orchestra and took on many freelance jobs before being hired in early 2004 by Havana NRG!
Georber Nodal (trumpet)
Born in Matanzas, Cuba on July 2, 1976. At the age 9 he took his first steps towards music, getting involved with different bands playing guitar and percussion. He began his musical studies in the Vocational School of the Arts in Matanzas, specializing in trumpet. Four years later, he decided to further his musical studies and successfully completed the entrance requirements at the famed National School of Art in Havana, where he extended his skills.
Georber graduated in 1995 with the a degree in Trumpet Performance. As a professional, he had the opportunity to perform with some of the greatest orchestras in Matanzas and also participated in several live performance showcases for the tourist industry in Varadero Beach.
In 2000 he moved to Miami , Florida where he performed with many local tropical bands and had the great experience of sharing the stage with the late Celia Cruz and Mickey Taveras. Georber also performed on popular television programs based in Miami, such as "Sabado Gigante", on the Univision Television Network, "Escandalo del Mediodia", "De Mañanita", and others. He has worked for such famous artists as Luis Enrique, Jaci Velazquez, Gisselle, Elvis Crespo, Gilberto Santa Rosa and many more. In 2002, he moved to Dallas and started playing with different bands until June of 2004 he became member of Havana NRG!