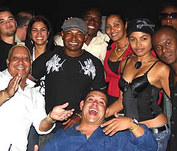 El Pikete
| Home Base | Established | Albums | Charts | PTracks |
| --- | --- | --- | --- | --- |
| Miami (FL), United States | 2007 | 4 | 0 | 0 |
This artist has albums available.

Click on each album title for an expanded view.

With an all-star lineup of timberos who played in elite Cuban bands like Team Cuba, Paulo FG, Manolín "El Médico", and Dan Den, EL PIKETE is a miami-based powerhouse timba group led by percussionist Alexis "Mipa" Cuesta.
ESPAÑOL: Esta agrupación surge de los deseos de expandir la musica cubana en los Estados Unidos y el resto del mundo. Su nombre se considera un cubanismo, y significa la unión. Se basa en las matices de grandes agrupaciones cubanas como Los Van Van, Manolito Simonet y su Trabuco y Pupy y los que Son Son. Se rescata la sonoridad charanguera al incluirse el violín como parte de la agrupación, y se logra un sonido renovador y netamente cubano. Sus integrantes son músicos profesionales, todos cubanos provenientes de grandes orquestas como Team Cuba, Manolin El medico de la salsa, Paulo FG, Dan Den, etc....

A todos nuestros amigos, les damos un gran saludo y los invitamos a apoyar nuestra musica y nuestros esfuerzos para llegar al corazón de todos los cubanos y salseros del mundo.

El repertorio esta compuesto por temas originales y, adicionalmente, arreglos nuevos de la musica cubana moderna, llenos de nuevas tendencias y en hechos pensando en el bailador. Esta influenciado por géneros como el songo, el mambo, el son montuno y la timba. A esto se une un sentido comercial debido a que el grupo radica en Miami y tiene enfocado su trabajo a todo el público de Latinoamérica y el mundo en general. Los temas originales del grupo son compuestos por José (Pepito) Montes, Jorge Carlos y Jeáns Valdez; compositores de la propia orquesta. Forman parte de la primera producción musical de El Pikete. Los objetivos de El Pikete es defender la musica cubana y llevarla a los más altos niveles de popularidad.
ENGLISH: El Pikete is on fire! With an all-star lineup of timberos who played in elite Cuban bands such as Team Cuba, Paulo FG, Manolín, and Dan Den, El Pikete is lighting up Miami's dance floor's night after night. Led by percussionist Alexis "Mipa" Cuesta, they play a combination of cutting edge new originals as well as new arrangements of timeless timba classics (Locos por mi Habana, De la Timba a Poggoloti, and Yeni's Los dejamos llevar, etc).
Hani, the youngest timba diva in Miami, shares lead vocal duties with Dan Den veteran Michel Calvo. Michel is also well known with his work in the acclaimed 'Havana Power Band' led by bassist Raúl Cabrera. Hani was a member of Sello L.A. and Colé Colé. She brings the same timba spice we're used to seeing from Vannia, Yordamis, Yeni and the other top timberas: beauty, charisma, attitude, and a great voice to the group.
Violinist J.C. is another key component of the group. He adds the charanga influence which so many timba bands have. El Pikete's recipe is a hot one. They want to be known as your Pikete, our Pikete! If you are in Miami don't miss out on the opportunity of watching this great new band live. They truly are a blessing to dancers, and as I like to say to the few and the proud timberos of Miami. Como los dijo Michel Calvo "EL QUE LA LLEVA, LA LLEVA" and this band definitely has it!

--from a review by DJ Melao of www.TIMBA.com, all photos by Tom Ehrlich