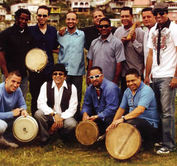 Plena Libre
| Home Base | Established | Albums | Charts |
| --- | --- | --- | --- |
| San Juan, Puerto Rico | 1994 | 1 | 0 |
This artist has albums available.

Click on each album title for an expanded view.
| Album Name | Preview | Style | Price | |
| --- | --- | --- | --- | --- |
| Plena Al Salsero | Your browser does not support the audio element | Plena | $12.99 | |

Puertorican plena band led by bassist Gary Nuñez. Known for reinventing the sound of bomba & plena by using a large (salsa) band instrumentation and arrangements.
PLENA LIBRE - Plena Al Salsero
Founded in San Juan by bass player/composer Gary Nuñez, Pena Libre is well into a 15-year voyage that has seen the orchestra re-invent the sound of Puerto Rico's plena and bomba traditions. During that time, Gary and his group have recorded 12 stellar albums which have garnered four Grammy nominations. In taking their unparalleled live show to the World, the group has spread the gospel of their unique Afro-Rican sound on international jazz festival stages from Montreal to Milan and Denmark to Veracruz as well as to Performing Arts venues like the Kenney and Lincoln Centers and the Dartmouth College's prestigious Hopkins Centre all the way to obscure outposts in the likes of Lake Okoboji, Iowa. Recent years have seen Gary and the band blend contemporary cumbia, merengue, salsa and other Afro-Caribbean sounds into their mix to create a unique sofrito borinqueño that is pushing the plena and bomba well into the future. With Gary securing some of the Island's top players for his band, Pena Libre has aptly transcended their humble beginnings – evolving into a powerhouse force that is undoubtedly one of the elite heavy-weight live orchestras on the current Latin music scene.
Inspired by the concerts during Plena Libre's lengthy Summer 2007 North American tour, Nuñez began to ponder how best to capture his group's live energy for what would eventually become Plena al Salsero – Plena Libre's 13th record overall and the orchestra's first live outing…. "This idea of a live recording was something that I had been encouraged to do for years", says Gary , "but in the past year the personnel and the chemistry in the band had gelled so much that I knew that the timing was now ripe. The evolution of the musical sound, excitement, and energy of Plena Libre's live show over this past year was something I had never experienced with the group before. I knew this sound had to be captured right now…. But when, and where?....."
The opportunity arose this past November when Pena Libre was invited to perform five concerts in Monterrey, Mexico at the World Forum of Cultures and Education festival organized by UNESCO to promote world peace and understanding. "We were absolutely thrilled to be invited to play Puerto Rican music at such an event", recalled Nuñez, "At the back of my head, I had also been thinking of doing a live recording of this current band for months, and this seemed to be both the right place and the right time. Unfortunately, however, we had no time to prepare for a live recording, so we just left for Mexico, without making any formal advance arrangements to record."
Gary continued… "After the first two performances – we were all so charged! – I just became convinced that we had to record these shows. My wife Valerie and I started looking in the Monterrey phone book for recording studios and, when we came to one called "Cielo" ("Heaven" in English) , I just felt that this name had to be a sign. We visited El Cielo Recording Studios and found this big beautiful studio with an amazing engineer. By the grace of God, he had just had another job fall through so he was available and willing to bring all the remote equipment to Monterrey's Parque Fundidora on terribly short notice to record us live at the final concerts of our Forum Cultural engagement that were taking place that same, and the following, nights.
Unbelievably, the whole experience just fell into place so beautiful and seamlessly. The technicians were super and the musicians in Plena were so "on" for these shows –everyone performing at beyond their own limits. After our final concert at The Forum, we were scheduled to fly home to Puerto Rico on the sunrise flight that very next morning. The engineer only managed to bring us the recordings to the hotel at 3 AM - just moments before our lobby call to leave for the airport. So then, we left for home not quite knowing what we had down on that tape… In my gut, though, I just KNEW it was going to be great!"
"When we finally heard the recordings at the mixing studio back in Puerto Rico", says Gary, "…we were simply elated! It confirmed everything I'd had been thinking about this band, the current lineup of Plena Libre. The chemistry and emotions on stage – my God! – It doesn't stop to amaze me how we all feel each other musically. This is what I trust people can hear on the record – the quality of the live recording, how it captures Plena Libre onstage, the overwhelming spirit of the band – it is the music of Puerto Rico as it should be experienced. When the musicians came over to hear the recording for the first time themselves, they said what I had been thinking myself that whole week in the mixing studio…. This train will just run you over!"
Nuñez should know what he is talking about. Alongside his wife (and band manager) Valerie Cox, he has chartered his band through a career that reflects a lifelong commitment to the music and culture of Puerto Rico. "When I was 20 years old," said Gary, "I met Noel Hernandez, who is now my compadre. Noel opened my mind to help me find out what was Puerto Rican about me, my identity and, my music. That got me into studying my history and my music and into playing both Puerto Rican music, and music from other countries. I realized that even though Puerto Rican musicians are known worldwide in many fields of music, the music that is truly traditional to Puerto Rico is hardly known. I wanted to do something about it; devote myself to it. After a few years with a group that worked with jibaro (mountain music of Puerto Rico) I decided to go into the Puerto Rican music that is based on our African heritage, the plena and the bomba. That's how Pena Libre was born. The rest is history…"
The sound of Pena Libre is the modern, forward-looking sound of Puerto Rico, at the same time that it is firmly rooted in Puerto Rico's musical traditions. The plena and bomba are at the core of the compositional structure of the songs and the instrumental lineup, which includes the panderos – the hand-held drums used in the traditional plena; it is also at the core of the singing style of Plena Libre's soneros, who had been brought up on Afro-Rican sung traditions. The trombone is perhaps the brass instrument most identified with Puerto Rico; Plena Libre's trombone section showcases the island's proud horn at the same time that it derives its presence in Plena Libre's version of Afro-Rican traditions from the innovative NuYorican salsero Eddie Palmieri and plena and bomba master, singer, Mon Rivera. Gary Nuñez has also added keyboard, bass, timbal, conga, and miscellaneous percussion to create a formidable rhythm section, combining the traditional bomba and plena with other Caribbean rhythms, as well as harmonic structures and improvisations derived from jazz. The resulting sound is muscular, energetic, and sophisticated, adapting folklore to the contemporary dance floor, without losing the grit and rawness of the street. Of his band's current line-up Gary said, "It's really some orchestra that I'm working with right now! I am really blessed to be working with some of the best musicians on the Island at the moment. … and such great guys as well."
Regarding the quadruple-threat of Plena Libre's four frontline singers Nuñez said, "Kali Villanueva has one of cleanest voices that I've heard in ages, and musically, he's grown so much over these last couple of years. Old-time sonero Pole Ortiz has such a powerful voice and he's one of the most versatile singers ever. Victor Velez just amazes me with his streetwise knowledge and experience in singing bomba and plena. And by adding Wichy Camacho we've brought one the most beautiful, and yet projecting, voices I've heard."
Of the band, Gary relates, "Rafi Falu is one of the top requinto (lead pandero) players in Puerto Rico, with fast hands and a great technique; Luis Gabriel – I'm so proud of him. He's my son and he's doing such a great job on the choro and the panderos. Plena Al Salsero is his very first recording – he's young, but learning fast; Rolando Lopez on the keyboards is very knowledgeable and so steady with his sound; Kachiro, our conga player, has to be one of the best congueros in the world. He has taken this band to new heights, so steady and fluent in his rhythm, yet not afraid of anything; Timbal player Raul Rosario is one of the Puerto Rico's young talents of percussion, a truly great musician; In my mind, Plena Libre's current horn section has to be the best trombone section in the business right now. Cesar Ayala, with his perfect pitch, plays the most beautiful third trombone I' ve ever heard. His range is just amazing; Gamaliel has a very powerful sound and perfect intonation – he really pushes the band; and Moises Cancel can do it all – whether it's smooth or hard. Together they create a sound that is professionally slick, but still so very powerful. I feel truly blessed to be working with them all." The offerings on this album include extended, live versions of a few of Plena Libre's hits from throughout the orchestra's storied career, as well as some choice covers and mostly exciting new Nuñez compositions seeing their first recorded versions on this release. It is some of the liveliest, the punchiest and most joy-filled delivery one can hope to hear captured on a live recording.
It is the culmination of Gary's lifetime of work, it is the sound of Puerto Rico, and it is Pena Libre today.