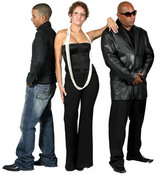 Lazarito Valdes y su Bamboleo
| Home Base | Established | Albums | Charts |
| --- | --- | --- | --- |
| Habana, Cuba | 2001 | 2 | 0 |
This artist has albums available.

Click on each album title for an expanded view.
| Album Name | Preview | Style | Price | |
| --- | --- | --- | --- | --- |
| Bamboleo Live Galiano | Your browser does not support the audio element | Timba | $16.99 | |
| Mi Verdad | Your browser does not support the audio element | Timba | $10.99 | |

Led by pianist extraordinaire Lázaro "Lazarito" Valdés, this modern timba group continues to reach new heights with its blend of dance rhythms, jazz, funk and soul. The addition of lead singer Tania Pantoja has solidified their status as the hottest band in Havana.
Lázaro Valdés Moises Rodríguez was born on February 6, 1965. He comes from a family of musicians, such as his father Lazaro Valdez, Director of Son Jazz, nephew of Oscar Valdes, director of the modern jazz group Diakara, grandson of Oscar Valdes, an also famous Cuban percussionist, and nephew of Vicentico Valdes, a prominent Cuban soloist. He began his professional career at 16 and proceeded to tour extensively with 'Pachito Alonso' as a keyboardist and percussionist. With this group he visited Chile, Venezuela, Italy, Spain, Switzerland and France.
In February 1995 he decided to establish Bamboleo, with the aim of entering into various genres such as salsa, folkloric afro-cuban music, Latin jazz, boleros and ballads. That same year the group receives the nomination for 'Revelation Orchestra' in the annual program 'My Salsa' as well as great acceptance in the island's top music clubs and festivals. Bamboleo, which is the group that brought together all of Lazarito's musical wants and ideas, quickly rose in popularity both nationally and internationally, highlighted by their extensive touring schedule in the U.S.A., Japan, China, Panama, and throughout Europe. Their third record, "Ya No Hare Falta" has become one of the most popular Cuban music albums of the all time.
Bamboleo has reached new heights with the addition of powerful and sensual singer Tania Pantoja. With her they made a DVD, called "Knockout" with Manolito Simonet, which was sponsored by Bis-Music. As a pianist leader Lazarito Valdés has obtained the status of National Vanguard for 5 consecutive years while the band has made many contributions to the fight against cancer and HIV. In addition they sponsor musical activities for the patients of the Santiago de las Vegas Hospital in Cuba.
BAMBOLEO's current lineup (2008):

| | |
| --- | --- |
| Lázaro Moisés Valdés Rodríguez | Director, Piano |
| Tania Ester Pantoja Palmero | Cantante |
| Ronnis Alberto López Salas | Cantante |
| Yosvani Castañeda Valdés | Cantante, Violín |
| Aryam Marcos Varona Hernández | Bajo |
| Alexander Sánchez Muñoz | Pailas |
| Lipsael Jesús Eduardo Jiménez | Congas |
| Juan Alberto Aguilera Noris | Batería |
| Maykel Rojas de Armas | Trompeta 1 |
| Maiquel Simón Irarragorri | Trompeta 2 |
| Alejandro Sánchez García | Saxofón Alto |
| Carlos Antonio Valdés Machado | Saxofón Tenor |
| Lázaro "Chucho" Jesús Piña Portuondo | Productor y Rel. Públicas |
| Oscar León Contreras | Ingeniero de Sonido |
| Vladimir Delgado Hernández | Ingeriero de Sonido |
| Rolando Pedro Ramos Suárez | Productor |
| Belkis Delia Valdés Rodríguez | Representante |
Bottom line......these people lay down the grind. All photos by Lazaro "Chucho" Jesús Piña Portuondo.