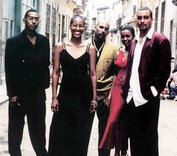 Bamboleo (1995-2000)
| Home Base | Established | Albums | Charts |
| --- | --- | --- | --- |
| Havana, AF | 1995 | 2 | 0 |
This artist has albums available.

Click on each album title for an expanded view.

Powerhouse Cuban Timba from one of the defining bands of this musical genre. From its inception bandleader and keyboardist
Lázaro Valdés
blended modern jazz with Cuban tropical music.
Biography:
Led by composer, arranger & pianist Lázaro Valdés, Bamboleo was one of the key and iconic Cuban timba bands of the late 1990's. A powerhouse combination of good writing and arranging, virtuoso performance, sophisticated vocals, and sex appeal, Bamboleo was a band definitely ahead of its time. Those who did hear them live will never forget it. With strikingly beautiful shaved heads, Vannia Borges with her sultry smooth singing style, and Haila Mompie, who is often compared to a youthful Celia Cruz, became two female stars in the male dominated world of salsa.

Yo No Me Parezco a Nadie (1998), their second release, was the most anticipated record to come out of Cuba in its time. The type of music delivered by this innovative 14 piece band was part of a revolutionary new sound emanating from Cuba that mixes jazz, salsa and Cuban "timba".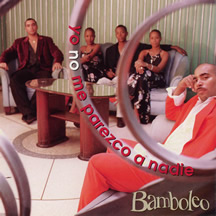 The album also features the collaboration of Leonel Limonta -considered one of the more prolific composers of the island- so every song on possesses a contagious hook while featuring guest performances by NG La Banda's arranger, Jose Miguel El Greco, on trombone, and Mario Hernandez (from Irakere) on lead trumpet. The result tears up the audience, be it in Europe, the Caribbean or the Lincoln Center in New York, where they played to a standing ovation.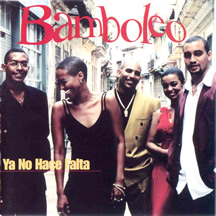 Ya No Hace Falta (1999), their third release, is a culmination of Bamboleo's aggressive while classy style. In the english dominated media, most notably musician magazines, it is sinful to note how incredibly under the radar this album continues to be. For example, any piano and bass player on the planet, no matter what kind of music they play, will be amazed at both the compositional and performance level of the music on this record. The music is just so damn kick-ass that the immediate questions are 'why haven't I heard of them before' and 'why aren't they more famous'? If you LOVE the low frequencies and want to put your sound system to the test this is THE RECORD for you. Note: Be sure to listen for their trademark break, 1-2 then 4-1 into the next measure.