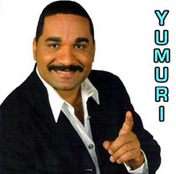 Yumuri
| Home Base | Established | Albums | Charts |
| --- | --- | --- | --- |
| Havana, Cuba | 1990 | 1 | 0 |
This artist has albums available.

Click on each album title for an expanded view.
| Album Name | Preview | Style | Price | |
| --- | --- | --- | --- | --- |
| Tiene Bilongo | Your browser does not support the audio element | Salsa | $10.99 | |

Cuban salsa from charismatic sonero.
A charismatic sonero, known for his vocal register and improvisations with an special Cuban seal, Moises "YUMURI" Valle, has the quality of assuming in scene all the required force of contemporary Cuban pop music.
Known as YUMURI, artistic name given by master ELIO REVE, Moisés comes from a Havana family of a great musical tradition. His experience as a singer began in 1984 when he joined the prestigeous and popular Elio Reve's Orchestra for four years. As a vocalist of that orchestra he had the oportunity of sharing scenarios with Cheo Feliciano, Ismael Miranda, José Alberto "El Canario" Ray Sepúlveda, Tito Nieves and Rubén Blades.
In Cuba, for several months, he was the invited artistic of Cabaret TROPICANA show. He also worked with orchestras Aragón and Irakere. After the mentioned experiences, Moisés decided to from his own orchestra taking with him three of his four musicians brothers. Since then, YUMURI Y SUS HERMANOS (Yumuri and his brothres) has occupied first places of national T.V. program "Mi Salsa" award as novel orchestra of that year, 1993.
First compact disc was "Yo quiero tranquilidad" ("I want to be calm") which was accepted by the public with its catchy tune known as "Cocodrilo de agua salá" ("Sea water cocodile"), really an example of his most artistic level. The lyrics are based on popular cuban slang phrases that support Cuban creole. The musical arrangements were made by ORLANDO VALLE, knawn as "MARACA", who used to be a member of Irakere Group and also the only YUMURI brother not incorporated to the orchestra. This CD shows Yumuri's outstanding vocal work, characterized for his unmistakeable vocalizations and wide range of Cuban Caribbean music paterns.