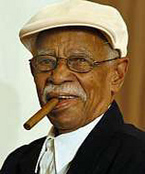 Pio Leiva
| Home Base | Established | Albums | Charts |
| --- | --- | --- | --- |
| Havana, Cuba | 1950 | 1 | 0 |
This artist has albums available.

Click on each album title for an expanded view.

Part of the Buena Vista Social Club, this Cuban singer and author of the well-known guaracha 'El Mentiroso ("The Liar")'. Pio Leiva also composed some of Cuba's best known standards.
English: Pio Leiva composed some of Cuba's best known standards and is one of the island's most colorful personalities, known everywhere as 'El Montunero de Cuba.' He won a bongo contest at the age of six and made his singing debut in 1932. With his deep, country voice, he has recorded over 25 albums since he signed his first contract with RCA Victor in 1950 and is known as one of the great improvisers. Pio has performed with Benny More, Bebo Valdez and Noro Morales and for a time was a member of 'Compay Segundo y Sus Muchachos.'
In 1953, he was recording with Compay Segundo in Havana on the day of the revolutionary attack on the presidential palace. He swears the sound of gunshots can be heard on the album. In 1991, at the youthful age of 74, Pio undertook a highly successful four month tour of West Africa where he has a dedicated following.
Español: Nació en la ciudad de Morón y allí cursó sus estudios alcanzando 2do grado. Desde su debut profesional en 1932 como cantante del Conjunto Caribe, de Juanito Blez, el autor de "Francisco Guayabal" se convirtió en figura clave para la época dorada de los grandes conjuntos; junto a Benny More, Compay Segundo, Roberto Faz, Aragón, Mariano Mercerón, Conjunto Caney y Riverside, entre otros, se establecio definitivamente en la gran escena respaldado por una aclamada lista de existos: Cocaleca, Cangrejal, Montuno Sibanicú, solo para citar algunos ejemplos. Se ha desarrollado toda su vida como cantante y sus giras han sido numerosas, África (8 países), América Latina (9 países), Europa (7 países), Estados Unidos (visitado en 5 ocasiones). Está considerado el artista más disquero de la música cubana. Ha grabado 26 discos de larga duración. Durante su vida artística ha trabajado con las orquestas y conjuntos de Benny Moré, Compay Segundo, Roberto Faz, Aragón, Mariano Mercerón, Chapotín, Conjunto Caney, etc. Obtuvo recientemente el premio Grammy.