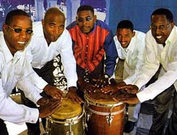 Rumba Eriera
| Home Base | Established | Albums | Charts |
| --- | --- | --- | --- |
| Havana, Cuba | 2003 | 2 | 0 |
This artist has albums available.

Click on each album title for an expanded view.

Innovadores del género de la rumba, Rumba Eriera es un grupo folclórico de Cuba bajo la dirección musical de Francisco "Panchito" Pérez.
Español Con la idea de dar otro aire novedoso a la Rumba Cubana nacío este proyecto, basado en canciones del pop de los sesenta y sesentas adaptados a la percusión afro-cubana, es algo que se puede oír en cualquier reunión rumbera pero que todavía hasta hoy no se había registrado fonográficamente.
La idea parte de los productores José Luis Uriarte "Pepe" y Gerardo Clemente "El Plátano", y se le encarga a Francisco Pérez "Panchito" la dirección musical del proyecto. Panchito, maestro de la percusión, ha trabajado con case todas las orquestas de prestigio en Cuba, todos géneros desde la Academia del Son (Chappottín y sus Estrellas) hasta las charangas con Estrellas Cubanas donde está actualmente. Pero lleva la rumba en el alma y la sangre.
Las voces son de Jorge Salazar, rumbero joven pero ya con una dilatada carrera artística, y Pedro Celestino Fariñas, carismático cantante de los Muñequitos de Matanzas, ahora profesor de arte afro-cubano en el Conjunto Folclórico Nacional.
English This project was born from the desire to give a fresh twist to Cuban Rumba based on pop songs from the 60's and 70's. This is something that can often be heard in any reunion of "rumberos", however nothing like this had ever been recorded before.
The idea came from the producers José Luis Uriarte "Pepe" and Gerardo Clemente "El Plátano", assinging Francisco Pérez "Panchito" as the musical director of the project. The percussion maestro Panchito has worked in almost all the prestigious orchestras in Cuba, from the Academia del Son (Chappottín y sus Estrellas) to charangas such as the Estrellas Cubanas, where he is at the moment. However, he carries Rumba in his blood and soul.
Jorge Salazar and Pedro Celestino Fariñas are the main vocalists -Salazar is a young rumbero with an already broad career and, Fariñas is a charismatic singer who was performed with the famous Muñequitos de Matanzas and is now a teacher of Afro-Cuban Art in the National Folklore Group.