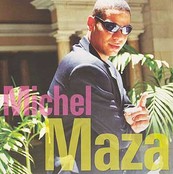 Michel Maza
| Home Base | Established | Albums | Charts |
| --- | --- | --- | --- |
| Havana, Cuba | 1995 | 2 | 0 |
This artist has albums available.

Click on each album title for an expanded view.
| Album Name | Preview | Style | Price | |
| --- | --- | --- | --- | --- |
| Que Hablen Los Habladores | Your browser does not support the audio element | Timba | $10.99 | |
| Fiesta | Your browser does not support the audio element | Salsa | $11.99 | |

Ex-Charanga Habanera heavyweight and singer Michel Maza. Michel is now a solo artist based in Peru. He continues to deliver great hard-core timba.
As a solo artist Michel has released two great albums: "Fieeeesta" and "Que Hablen Los Habladores". Fieeesta features the amazing pianist Sergio Noroña who recorded on Paulito FG's Con La Conciencia Tranquila. Most of the other musicians have played together for some time as a group called "Arnaldo y su Talisman". The singing, arranging, and playing are all superb, as is the choice of material. Unfortunately, Mr. Maza does not use this group when he plays live. The live group is energetic, but not nearly as tight or creative as the group on the record. My personal opinion is that Michel Maza easily ranks among the top 5 current Cuban singers, but that since leaving David Calzado, has lacked the discipline and organizational expertise to put together and maintain a top-level group. The recent albums, however, are a huge step in the right direction, and ranks among the very best timba offerings since 2000.
His complete name is Joe Michel Maza Márquez. He was born on March 16, 1978 into an incredibly musical family. Of course, Michel was no exception and he enrolled in the music school "Manuel Saumell" specializing in piano, but that didn't last very long because he said he wanted to be a baseball player!
In 1995, at age 16, he acquired the nickname "El Menor de la Salsa", when he became the youngest member of a famous band -- David Calzado's Charanga Habanera. He sang many of the group's biggest hits, beginning with "Pa'que Se Entere La Habana", his first song as lead singer.
He stayed with La Charanga for four years, surviving even the famous breakup of 1998, although he only stayed on for a few more months. In February of '99 he left the group because of health problems. After a short period of inactivity, he joined Issac Bocalandro's 'Charanga Forever'.
In mid-2000 he finally formed his first group as a leader, "Michel y La Bola". He left "La Bola" for "Banda Meteoro" where he made a few recordings, but the latest news is that he's now this group as well and has formed still another, "Michel y la Tentación". Michel has also participated in a number of other musical projects, both in Cuba and abroad, including all-start tributes to Juan Formell and Pablo Milanes, Calixto Oviedo's "La recompensa" and the new group, "Sol y Soul".
Spanish: Su nombre completo es Joe Michel Maza Márquez. Nació el 16 de marzo de 1978, en el seno de una familia musical. Por supuesto, el niño Michel no fue la excepción y matriculó en la escuela "Manuel Saumell" en la especialidad de piano, pero no le duró mucho la vocación porque él dijo que quería ser pelotero.
A los 16 años se convirtió en "El Menor de la Salsa", cuando en el año 1995 fue el miembro más joven de una orquesta famosa, la Charanga Habanera de David Calzado. Interpretó algunos de los más grandes hits de esta orquesta, empezando con "Pa' que se entere La Habana", su primera canción como solista. Con la Habanera se mantuvo 4 años, sobreviviendo incluso la famosa separación, pero sólo por unos meses. En febrero del 99 se separa de David por problemas de salud, y a esto le sigue un período de algunos meses de silencio.Después se suma a la Charanga Forever de Issac Bocalandro, donde se mantiene cantando por algún tiempo.
Finalmente, decide crear su propia orquesta a mediados del año 2000, "Michel y La Bola". Tenemos además algunas grabaciones de Michel cantando con la "Banda Meteoro" después de abandonar a "La Bola", pero algunas fuentes me han informado que ha vuelto a formar una orquesta propia, según tengo entendido se llama "Michel y la Tentación". Michel además figura en muchísimas producciones nacionales e internacionales, como los homenajes a varios músicos cubanos (como Juan Formell, Pablo Milanés, etc), "La recompensa" de Calixto Oviedo y "Sol y Soul".

-- by Kevin Moore & Majela Serrano of www.TIMBA.com