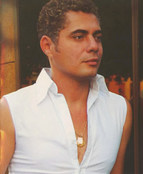 Nelson Manuel
| Home Base | Established | Albums | Charts |
| --- | --- | --- | --- |
| Havana, Cuba | 2003 | 1 | 0 |
This artist has albums available.

Click on each album title for an expanded view.
| Album Name | Preview | Style | Price | |
| --- | --- | --- | --- | --- |
| Palabras | Your browser does not support the audio element | Timba | $10.99 | |

Cantante Nelson Manuel Cotrina Gutiérrez, es uno de los artistas más prometedores de la timba cubana.
Español: Nelson Manuel, nacido en el barrio habanero de Santa Felicia (Marianao), da sus primeros pasos en la música profesionalmente con una de las orquestas más populares que tiene Cuba, "La Monumental", dirigida por el maestro Daniel Rojas. Al mismo tiempo que se desarrolla su carrera musical, sigue con sus estudios de música en la Escuela Félix Varela, consiguiendo un perfecto domino de su voz moldeando su timbre amelcochado y dándole a sus composiciones la esencia que lleva la música cubana.
En 1996 es captado por una de las orquestas que en aquél momento estaba disfrutando de su mejor momento, con la que obtiene algunos éxitos y acrecienta su popularidad. Posteriormente decide pasar a Clave Cubana donde graba el CD "Dicen que el Son"; un auténtico 'best seller' donde se incluyen tres de sus composiciones.
Toda esta trayectoria atrae en 1998, cuando el "boom" de la salsa cubana estaba en su cúspide, a los productores de espectáculos artísticos, que lo llevan a sus filas para in cantar como solista en un show junto a la conocida vedette María Antonieta, en la producción "Habana, Ritmo y Sabor",
que se presenta en México, bajo la dirección artística de Juan Carlos Moreno. Por su aceptación internacional Nelson Manuel vuelve a ser llamado en el 2001 a otra producción, el espectáculo 'Cubanísimo Superior', dirigido nada menos que por el coreógrafo y director artístico Tomás Morales, quien comenzó en el cabaret más famoso del mundo: La Tropicana.
Nelson Manuel decide formar su propia orquesta el 13 de noviembre del 2003. El concepto musical de Nelson Manuel es mantenerse en lo mejor de los ritmos cubanos orientado por cantantes como Isaac Delgado, la estrella de la salsa cubana y Los Van Van, el tren de la salsa y la timba continental. Este último disco hay que prestarle mucha atención porque todo es de su cosecha. Tiene en su contenido un buen abanico de estilos: boleros, salsa, son, changüí, fusión. Una muestra palpable de que se mueve en una variante musical muy rica.
English: Nelson Manuel Cotrina Gutiérrez, is today one of the most outstanding singers of the current Cuban music scene. Born in Havana, Santa Delicia (Mariano), his career started by featuring at the most popular Cuban orchestras such as "La Monumental", conducted by the master Daniel Rojas. During that time he continued his music studies at the school Felix Varela, achieving a perfect command of his voice, shaping it and injecting the essence of the Cuban music to his compositions.
In 1996 he was recruited by one of the orchestras that at that time was in it's heyday. Nelson gained a few successes, and increased his popularity. Later he deicided to join Clave Cubana where he recorded the CD "Dicen que el Son", an authentic bestseller tht fetured three of his compositions.
By 1998 all this experience attracted a producer who hired him to work as a soloist together with the vedette Maria Antonieta, on the show "Habana, Ritmo y Sabor", which ran in Mexico, under the artistic conduction of Juan Carlos Moreno. Due to his international fame Nelson Manuel was called once again to release a second production in 2001. The show 'Cubanísimo Superior', directed by the famous choreographer and artistic director Tomás Morales, who began at the most famous cabaret: La Tropicana. Nelson Manuel decided to make up his own orchestra on November 13th of 2003. Nelson's musical concept is to maintain himself on the wave of the best Cuban rhythms, guided by singers such as Issac Delgado, the Cuban salsa star, and Los Van Van, the monster of continental timba.