2008 Winter NAMM Show Report
January 24, 2008
By Michael P. Lazarus, Founder LPM
As with other years, the National Association of Music Merchandisers convention and tradeshow (NAMM) was extremely well attended and dominated by guitar manufacturers. This year the NAMM association announced breaking the all-time record of exhibitors with 1,560 companies displaying products at this year's NAMM Show. International attendance showed a seven percent increase for a total of 10,605 registrants from more than 100 countries.
2008 Winter NAMM Show - Anaheim, California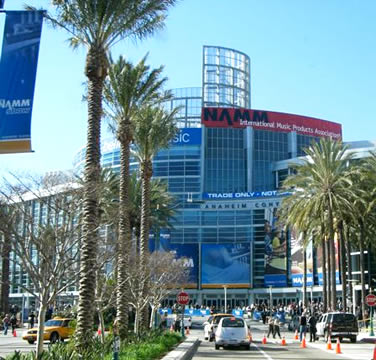 Hosted by the Anaheim Convention Center, the show runs Thursday to Sunday from 10am to 6pm with many feature appearances and nightly concerts. For many international visitors it is clear that the US is a guitar oriented market. While there is no doubt that NAMM is the place to meet the top instrument companies in the world –Roland, Yamaha, Loud Technologies (owners of Ampeg, EAW, Mackie, Alvarez, Crate, St. Louis Music, TAPCO) for example- the special upstairs luxury room exhibits (Fender, Gibson, ESP), prevalence of guitar driven music at the special after-hours performances in the surrounding hotels and theaters, and the post 9pm hesher (black leather clad long hair rocker types) scene at the adjacent Anaheim Hilton make it absolutely clear that the guitar RULES and everyone must have one. Those companies have done an excellent marketing job.
Evidence, however, of new initiatives to capture a larger portion of the growing Hispanic market are rising as companies roll out new products and pro-latino programs. One such company is the Music Sales Group, a leader in instructional music books. Their method books, be it for voice or dedicated instruments, are written and conceived in Spanish and include traditional Latin American songs. These books are the REAL deal --they are NOT translations of English language methods. An international family of music publishing companies, The Music Sales Group manages and exploits over 200,000 music copyrights, numerous catalogs and a chain of UK retail outlets. This London-based company has eight offices and three distribution centers around the world. Latin Pulse Music will be rolling out a digital series (eBooks) of these instructional music books created by the Music Sales Group. A singing method, ¡Aprende Ya! Canto, and an accordion book, ¡Aprende Ya! A Tocar Acordeó n, are already available (click on the titles to sample).

MSG VP Steve Wilson & Debbie Lash
Music Sales Group @ Winter NAMM '08
A visit to the percussion manufacturers always delivers spontaneous sightings of many latin music artists. At the Tycoon Percussion booth I caught Cuban Timba All-Stars' leader and endorsee Tomá s "Tomasito" Cruz and fellow band member Reinier Guerra , a monster "drumset con timbales" player. CTA's kick-ass album CTA Live in San Francisco is available here on LPM. Also Tomasito promises a new studio CTA release in the late spring. WE CAN'T WAIT. Joining Tomasito and Reinier on this impromptu jam is Puerto Rican bandleader and latin jazz star Paoli Mejias. Write Paoli at paoli@paolimejias.com and let him you would like to see his albums on LPM.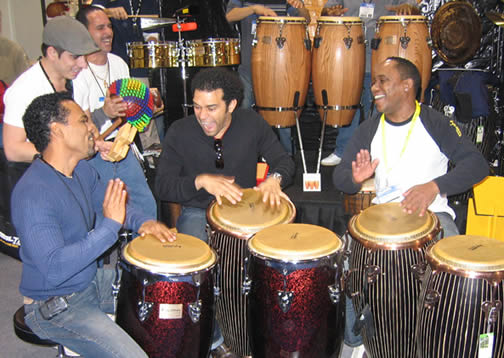 Tomá s and Reinier jam with Paoli Mejias and friend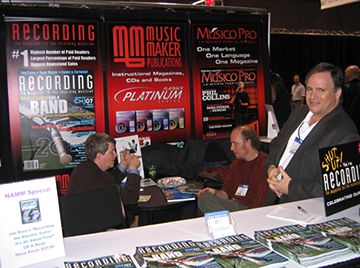 MMP President Tom Hawley - Mú sico Pro Magazine

Another leader in the Latino market is Boulder, Colorado's Music Maker Publications. MMP publishes the leading Spanish language musician magazine Mú sico Pro. Each issue of Mú sico Pro contains up-to-date information on the hottest products for the Latin market, concert and album reviews, and the latest industry news. Regular columns and special articles cover songwriting, recording, and performance. Mú sico Pro includes interviews with today's hot musical artists and helps the Latino musician and recording artist connect with the global music scene. Look out for a new digital version of Mú sico Pro here on LPM!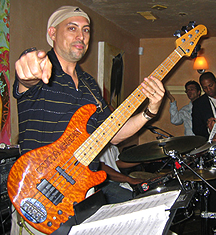 me & my Lakland puracepa model
In other instrument categories, Chicago based bass manufacturer Lakland shipped more basses last year than ever. Full disclosure, I play a Lakland 5594 5-string and its simply the bomb. Easy 4-string type spacing and a special tapered low-B make this the best 5 string on the market. A must have if you play Timba (contemporary Cuban salsa, sorta like Earth Wind & Fire in rumba clave). You're going to need that serious oomph when you have to unload those dive bombs during the breakdowns.

Speaking of Afro-Cuban styles our friend Chuck Sher at Sher Music Co. has given us the go ahead for some new specialty offerings. Right on! Their excellent books are either in English or completely bilingual and feature comprehensive methods for both individual instruments (see Michael Spiro's Conga Method) and ensemble studies (see Muy Caliente!).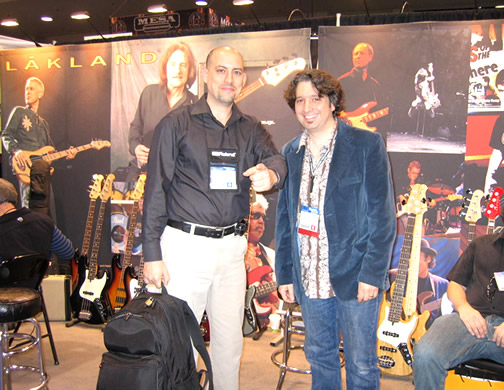 yours truly with John Pirruccello at his Lakland (electric basses) booth
Let's not leave out the horn players. What is latin music without trumpets, saxes or the mighty trombone? If you're going to play salsa you've got to throw down some really fat tones from that bone. Our Timba.com readers and musicians prefer brass from these two titans: French company Buffet Crampon and USA's own Conn-Selmer, based in Indiana. It's known that competition fosters better products and these two companies are the ones to watch. The good news is that they will be launching special products and programs for the Hispanic market this year. Without a doubt their efforts will be well received as latinos, and latinas, will prove to be very loyal customers.
Conn-Selmer Artist Relations Coordinator Jeff Perry
Buffet Crampon Brass Specialist Tim Ornato
The NAMM experience is not complete without the very cool opportunities to listen and meet great artists. Watching them perform is one thing, but hearing them try out new gear and spontaneously jam is another. Here are some highlights along with our very special LPM client "outreach" program.

See you all at next year's show.
Peace, _Michael
Timbalero with Avance & Santana Karl Perazzo
and Mana's drummer Alejandro Gonzá lez
Stevie Wonder plays a new Rhodes electric piano
Austin's best kept secret? Monte Montgomery
blew us away at Summer NAMM '06.
Get with it and listen to singer, songwriter
& awesome guitarist Monte Montgomery.
Never heard this guy play?
It's Ben Lacy. You are
missing out. For real.
If the wife asks, it was Jerry's idea.
Right Jerry?
LPM's Jerry Talavera officially begins
our new client outreach program.