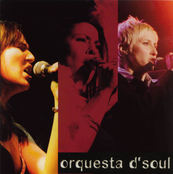 Orquesta d'Soul
| Home Base | Established | Albums | Charts |
| --- | --- | --- | --- |
| San Francisco, AF | 2001 | 1 | 0 |
This artist has albums and
podcasts
available.

Click on each album title for an expanded view.
| Album Name | Preview | Style | Price | |
| --- | --- | --- | --- | --- |
| Money Money | Your browser does not support the audio element | Tropical | $8.99 | |

All-female front line delivers hot latin sounds. The band is also known as ODS.
NEW!! - See the *
Orquesta d'Soul (Live!)
* video here:
Orquesta d'Soul is a band that prides itself on delivering both original high-energy latin dance music and soulful R&B grooves. The pop delivery and style of the songs is unique due to the inclusion of folkloric Caribbean rhythms. Led by trumpeter, singer, and composer Marina Garza the all-female front line delivers a rich show that combines dance moves and lyrics in three languages: English, Spanish, and Japanese.

About Marina:
Marina has been playing trumpet for more than 20 yrs. but chooses not to reveal her age. Describing her trumpet playing would be similar to the feeling you get when walking under an air blowing vent or riding the mechanical horse one too many times - pleasant with a slight shafing feeling. The most memorable experience for Marina was her trumpet playing in a German beer hall with the "Foompha Fraus" an all woman polka band, wearing a hat with sausage links attached, and singing "In heaven there is no beer, so we have to drink it here". Her most proud moment was performing at the Great American Music Hall, opening for the "B-Side Players", this was a break though point in her music writing career, when she started fusing salsa with funk, and mixing Spanish and English lyrics. She currently spends most of her time writing the music for Orquesta D'Soul and perfecting her vocal abilities. Marina's hobbies include mountain biking (but only when there are no hills or mountains involved) and wrapping her friends in plastic while beating them with a stick.
---
SF CHRONICLE (excerpt)
Friday, June 25, 2005
Berkeley: A concert where the women of salsa do more than dance and sing
By Andrew Gilbert, Special to the Chronicle
It was while she was subbing in Dulce Mambo that Garza first developed an interest in salsa. Born and raised in San Antonio, she studied European classical music and jazz in college, while listening to funk and hip-hop for pleasure. She moved to the Bay Area in the late 1990s, and quickly hooked up with the Montclair Women's Big Band, a formidable East Bay jazz ensemble created by trumpeter Ellen Seeling to facilitate connections between female players.
Garza has released two albums with Orquesta D'Soul, most recently the critically praised "Money Money" (Neo-Latin Records). The revolution she helped highlight with the Women in Salsa shows seems to be spreading. Since the first performance in 2001, the concerts have spread to Redwood City, where several concerts have been held at the Little Fox Theatre. Most importantly, the gigs have helped foster ties between the salseras.

Podcast is free to download.
Name
Listen
Description
The Technical and Creative
Aspects of Composing Music

Your browser does not support the audio element

SF-based band leader and composer Marina Garza speaks about the art of writing music. She describes both the creative and technical process (with musical notation software). Focus on salsa and latin music syles discussed throughout. July 19, 2006 interview. Total time is 40:34
The Elements of Salsa:
Basic Rhythms & Movements

Your browser does not support the audio element

Pandora music analyst, trumpeter and bandleader Marina Garza of Orquesta D'Soul comes in to talk about the elemenets of salsa music. She and Kevin are joined by Orquesta D'Soul's bassist Mike Lazarus, pianist Jason Moen and percussionist Patricio Angulo (on timbales, bells and congas). They break down the different percussive patterns played in mambo and salsa, look into the music's Cuban roots in cha and son, and show the 2:3 and 3:2 son clave patterns that form the backbone of the groove. (9 mins.)