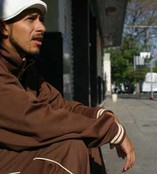 Akil Ammar
| Home Base | Established | Albums | Charts |
| --- | --- | --- | --- |
| Distrito Federal, AF | 1996 | 2 | 0 |
This artist has albums available.

Click on each album title for an expanded view.
| Album Name | Preview | Style | Price | |
| --- | --- | --- | --- | --- |
| Deja Vu | Your browser does not support the audio element | Hip-Hop | $11.99 | |
| Melokarma | Your browser does not support the audio element | Hip-Hop | $12.99 | |

Poet, rapper & spoken word artist.
NEW!! - Preview Akil's upcoming album! - See the * MI BARRIO * video here:


Biográfia: (for English Bio press here)
Nativo de México DF y con más de 12 años involucrado en la cultura Hip Hop, Akil Ammar es un MC, artista de Spoken Word y poeta urbano, que a través del tiempo ha evolucionado y reinventado su papel y compromiso con la comunidad. Con temáticas variadas, plasma en sus líricas desde relatos citadinos y experiencias humanas cotidianas, hasta problemas sociales abiertamente criticados, todo con la finalidad de tocar la sensibilidad del escucha, y hacerle llegar así, un mensaje positivo y propositivo. El rap es la herramienta con la cual, además de difundir otros aspectos de la cultura Hip-Hop, construye poesía, animando a la reflexión.
Co-fundador de IndieGente, organización independiente creada en 2005 que tiene como objetivo el continuo desarrollo y reconocimiento de la cultura Hip Hop, lográndolo por medio de diversas manifestaciones artísticas fundamentadas e inspiradas en el progreso, resistencia y educación de comunidades marginadas alrededor del globo con hambre de alzar la voz.
Solista desde 1996, aunque entre el 97 y 98 pasó por el grupo Lifestyle. Sus influencias musicales han evolucionado, pasando por Public Enemy, Nas y Krs-One hasta Common, The Roots, Dead Prez, Blackalicious, Michael Franti y Mos Def, además de géneros musicales como el reggae, funk, jazz, blues y ritmos latinos como salsa y cumbia.
Ha compartido escenarios y ha colaborado con artistas como:
Dead Prez, Freestyle Fellowship, Aztlán Underground, Warclub, 2Mex, Ozomatli, El Vuh, Global City, Frank T, Payo Malo, SFDK, El Cojín, Falsalarma, Skool 77, Bocafloja, Magisterio de México
Presentaciones en Festivales Nacionales e Internacionales:
Ademas de aparecer en Festivales de Rap en Cuba entre el 2000 y 2003, Akil ha trabajado en una serie de presentaciones en EU desde el 2004 gracias al International Hip Hop Exchange, Mano a Mano, Soul & Sol, Sexto Sol, Xicano Records and Film, Divine Force Radio y otras organizaciones